Kasese Latrine Seats for Disabled – Uganda
Location
Kasese Town, Kasese District, Western Uganda
Community Description
From 1996-2001 Kasese experience a civil war between its government and local rebels. Hundreds of people lost limbs due to landmines.
This project is being carried out under the auspices of Rwenzori Empowerment Center-Kasese (RECKLAS). For the past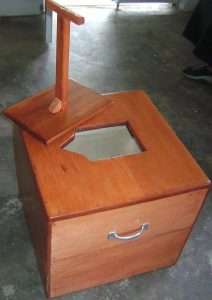 eight years, RECKLAS has been providing a multitude of services to community members in Kasese who are physically disabled.
The project is directed toward people who have lost one or both legs to landmines in the area, and are already enrolled in the RECKLAS program.
Thus far, RECKLAS has provided more than 200 victims with counseling, new limbs and shoes, rehabilitation and much more. These limbs have made a significant difference in the lives of these survivors, as they are now able to work, take care of their families and move around without assistance.
Because of their location, disability, and income level almost all of these people use pit latrines of the type that is used all over Uganda. One basic function that these victims are still struggling with is the use of the latrine.
The latrines in use are just a small hole in the ground that the user squats over. For those with disabilities (most of them without one or both legs) it becomes very difficult to balance themselves to properly use the latrine.
Project Description
This project is to construct latrine seats for the RECKLAS participants. Prototypes have been built and tested, and have been found to provide great assistance for the users.
The latrine seat is a wooden box seat that fits over a latrine hole. It gives the disabled a comfortable place to sit while using the latrine in a sanitary way. These seats will restore a sense of dignity and normalcy to the disabled, because they will be able to perform this function without assistance.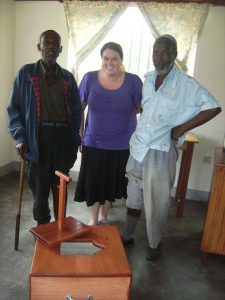 The latrine seat is constructed of wood by local craftsmen. It is completely waterproofed to ensure easy cleaning. It also includes a cover to keep out the flies, and will lead to a good sanitation teaching session.
Project Impact
This project will empower and give dignity to 46 people, who will be able to use latrines in a convenient manner, without assistance.
Peace Corps Volunteer Directing Project
Peace Corps Volunteer Bailey Shook works directly with RECKLAS, and is managing this project
Comments
This is a high-impact project, providing wellbeing and dignity to a segment of Uganda society devastated by the impact of civil unrest. It is the first project of Appropriate Projects aimed at serving the disabled population.
The project holds the promise of even greater impact beyond the great immediate benefit to the recipients. If this pilot project is well received and continues to be beneficial to its users, it can be replicated elsewhere.
The manufacture and distribution of the latrine seat could potentially be developed as a small business from which revenue can be derived and jobs created.
Dollar Amount of Project
$500.00
Donations Collected to Date
$400.00
Dollar Amount Needed
$100.00 – This project has received major funding through the generosity of the Elmo Foundation, with the expectation of additional donations from the friends, family, and supporters of the Peace Corps Volunteer.
We encourage others to continue to donate using the Donate button below, and we will notify the Peace Corps Volunteer of your donation. Additional funds will be used to fund the next project by the PCV and/or those of other PCVs in the country of service.
This project has been completed. To read about the conclusion of the project, CLICK HERE.
We are still accepting donations to replenish our project fund and to enable the further work of PVC Shook and her counterparts in Uganda.