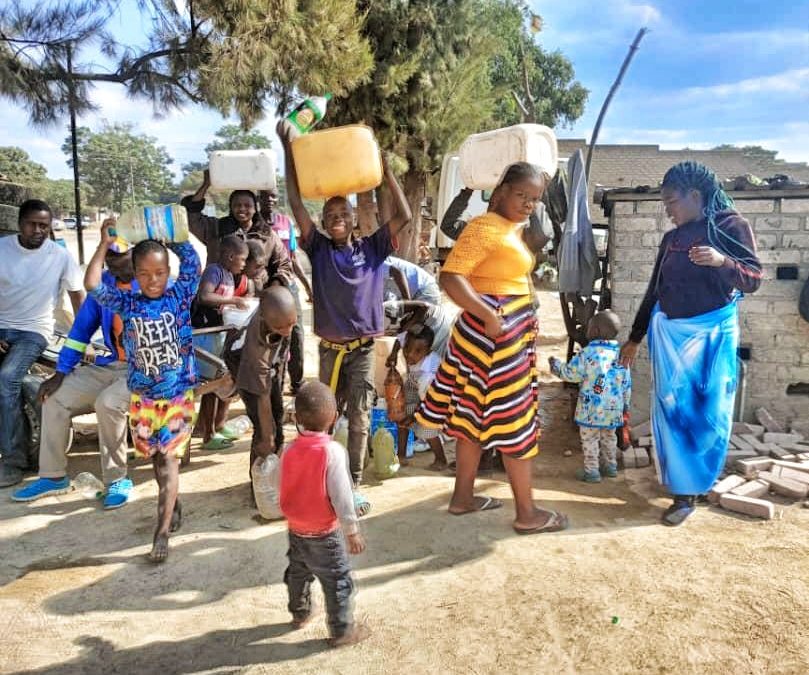 Conclusion Of Establishing WASH Resources – Epworth, Zimbabwe
Epworth community members waiting to retrieve water from an unsafe well, the water that residents retrieve from this location is dirty and unsafe.
Water Charity, in partnership with Dare to Share launched a WASH initiative to meet the needs of the community. Limited access to clean water and a lack of hygiene resources are the largest challenges that Epworth residents face. A vast majority of the population relies on rivers and an inactive quarry for washing, bathing, and drinking. Waste has contaminated these resources and water-borne illnesses are rampant in the suburbs. The population suffers from HIV, tuberculosis, cholera, malaria, and parasites such as schistosomiasis. The number of infectious diseases will continue to rise if the water crisis is not averted.
Chiremba Road is a busy location that most residents use to travel long distances in order to retrieve water. Many residents in this area walked five to seven hours a day to the rivers. These residents suffered from diarrhea, parasites, and other water-borne illnesses because the river water is not safe to consume. Residents relied on these rivers for bathing, washing clothes, washing pots and pans, and drinking. They walked in hot, hazardous conditions daily to retrieve water that would likely make them ill. The burden of retrieving water fell on the shoulders of young girls and women in particular who missed school to travel, collect, and boil the water once they returned. Children in this area struggled to attend school in general because they spent their days traveling to the rivers to bathe, preparing water for meals, and gathering firewood so that they could boil the water once they attained it. Children oftentimes missed school due to waterborne illnesses. Chiremba Road is a densely populated area where up to ten families may stay in one household. Frequent visits to the rivers increased pollution significantly. The rivers are polluted with human waste and litter. A new borehole well would reduce trips to the rivers, thus diminishing the rate of pollution.
Project Description
The Epworth WASH Program is drilling boreholes to provide clean water to the residents. with clean water. Currently, residents have access to one borehole, two rivers and a quarry for washing and drinking water. Natural resources are contaminated. Rates of infectious diseases are high 4% of children regularly miss school due to water-borne diseases. Cholera, malaria, tuberculosis, HIV and bilharzia are common infections. The successful completion of Water Charity's WASH project will reduce infectious disease rates, provide socio-economic opportunities and empower the community. One borehole can provide water for 1,000 people. The long-term goal of the WASH project is to drill 200 borehole wells. The project's long-term goal also includes the Construction of hygiene facilities, including water closets, showers and laundry facilities. Fifty of these facilities will meet the needs of the community. Water Charity's current focus is on the borehole project. Epworth currently has access to two working boreholes. The first was constructed before we started the WASH program. The second was completed in May 2023.
Progress Photos – 1
The WASH project aims to build two hundred borehole wells and fifty hygiene facilities. The phases of the project are as follows:
● Phase 1: Complete two borehole wells. The first is by Chiremba Road, a densely populated area of residents who have to walk up to seven hours a day to retrieve water from the rivers. The second will be by Epworth Secondary School to support the health of students and decrease the risk of infectious diseases that frequently prevent children from attending classes.
● Phase 2: Utilize grant funds to acquire a borehole drill rig and begin drilling several borehole wells yearly. This phase will provide many employment opportunities to community members. We will train members to operate the rig and construct the wells while following proper safety procedures and guidelines.
● Phase 3: Construct fifty hygiene facilities. The hygiene facilities will include showers, water closets, and laundromats. Residents currently have no access to hygiene facilities and depend on contaminated bodies of water to bathe, wash, cook, and drink. The hygiene facilities will drastically reduce infectious disease rates and improve the community's health. We aim to hire community members to assist in building these facilities, thus providing job opportunities.
Water Charity's donation of $6,000 has allowed to complete the first borehole well as outlined in Phase 1. The well currently supports 2,000 families that live on Chiremba Road. These families no longer have to travel several hours a day in hot conditions to retrieve dirty water. Your support has touched many lives within the first few months of our WASH project alone.
Progress Photos – 2
We set the following goals as measurable objectives for the first well project:
Provide clean water to the residents of Chiremba Road, a community of 2,000 families that have no access to WASH resources.
Reduce pollution of natural water resources by providing a new borehole well.
Reduce infectious disease rates
Increase school attendance
Boost community involvement by creating volunteer opportunities, instructing residents on how to maintain the new borehole well, and providing careers to residents by hiring locals to keep the well secure, thus bringing revenue into the community.
Provide a clean water resource that all members of the community can use.
Hygiene has improved for children attending school. Children are able to wash their uniforms with water that is not contaminated. They are clean when they arrive to take their classes. They also have clean water to drink throughout the school day which is contributing to the decrease in waterborne illness. We will be using the following methods to measure the continued success of the project:
1. We have installed a water meter to measure the daily water usage in gallons. This will indicate how often the residents are using the well, and to what degree.
2. We are in contact with the local clinic. We have requested monthly reports of infectious diseases. We will send these reports to Water Charity as we receive them.
3. We are in contact with the local schools. The schools have agreed to share attendance data with us. We will use this data to track school attendance as it relates to the new borehole well. We expect that school attendance will be consistent now that children no longer have to miss class to retrieve water.
Progress Photos – 3
Challenges & Outcomes
There were several challenges involved in the project. We predicted these challenges and were equipped to mitigate them as efficiently and effectively as possible. Most of the issues we dealt with involved navigating systems of corruption in Zimbabwe. When gathering quotes from contractors for the well materials and installation, we received values that were far above what was initially promised. The contractors were exaggerating the amounts to make excess profits. Once we gathered data on how much materials and installation should cost, the contractors settled for the prices outlined in the initial grant proposal. The final costs of the project are outlined in the budgetary portion of this report.
There is a strict political divide in Zimbabwe right now since elections are underway. Many residents cannot retrieve water from other areas in Epworth due to political dissension. One suburb will prevent another suburb from using its clean water resources because of differences in political beliefs. We were able to provide a clean water resource to all residents regardless of political affiliation. We are seeing the well unite the community in this way. Residents are communing peacefully with one another for the sake of protecting their new borehole well. We not only met our goals for the new borehole well project, but we also exceeded them. The well receives an estimated 2,000-3,000 visitors a week. Most visitors live in the well's vicinity. Others are travelers who formerly walked several hours to retrieve water from the rivers. We are already observing a decrease in infectious diseases. Clinic visits are down by 6%. We receive data from the clinics on a monthly basis. We will be sure to share this data as we regularly receive the reports.
Communication was at times an issue. Electricity is not always available and communication between parties could be delayed for unpredictable amounts of time. We were fortunate enough to avoid significant delays in the borehole project due to communication, but there was an incident where the contractor who finished the well could not be contacted to resolve an error. The contractor installed an AC pump rather than a DC pump by mistake. The well was unable to fill the barrels with enough water. Two weeks passed before our team could contact the contractor to replace the pump. We are working to implement better protocols to resolve communication issues for future projects. Our team in Zimbabwe struggled to engage community members when the well project began. This was due in part to political controversy. Residents were unwilling to unite and assist with completing the well. Our Zimbabwe team resolved these tensions by clarifying our status as a neutral party with no political affiliations. By the end of the week, residents were volunteering with brick-laying for a collection station, cleaning the construction debris, keeping the well sanitary, and securing the premises. According to our Zimbabwe project coordinator, residents expressed that "they were one people" because the well was a community effort. As stated before, the well is unifying the community.
Going forward, the short-term objectives of the Water Charity's borehole project are as follows:
Objective 1: Increase access to clean water for the people of Epworth through the construction of an additional third borehole, which will serve an additional 2,000 families.
Objective 2: Prolong the life of Epworth's existing clean water resources through the completion of a third borehole well, thereby reducing the overuse of existing resources and minimizing repair costs.
Objective 3: Support the local economy by employing Zimbabwean-owned contractors to complete the construction of the borehole.
Objective 4: Encourage community involvement by creating volunteer opportunities for local residents to assist with general works associated with the borehole.
Objective 5: Support the local economy by creating jobs for Epworth residents, such as hiring day and night guards to secure the wells. A borehole can be completed within a week of securing the necessary funding.
Completion Photos
Conclusion Report
The borehole completed by Water Charity in April 2023 was built at Domboramwari Bridge along the Chiremba circuit. The borehole has been serving 2,000-3,000 people per month since its completion. This well was originally drilled in 2020 and equipped with a hand pump. The well was not operational until Water Charity provided the funds to rehabilitate it. Contractors replaced the old system with a solar-powered pump to restore its functionality and provide water to more of the community.
The cost of materials included the water tanks, tank stands, solar pump, power cable, pipes, fittings, rope and control box. Once the well materials were secured, the project manager scheduled the installation of the borehole through a third-party contractor. Construction began on 29 March 2023 with the removal of the old system. The new borehole was completed with the installation of solar panels on 7 April 2023. Due to the high crime rate in the region, extensive security measures were required for the successful completion of the project. A second contractor was hired to build a security fence around the well. Two security guards were hired to protect the wells and community members once the borehole was operational. These guards were trusted community members who had been employed through the WASH program.
Community volunteers assisted the team throughout the well construction process. Approximately five community members at a time helped with the installation of the well. Once the well was installed, the community members helped build a brick guard house and a water collection station. Community members were readily available when needed.
Beneficiary's Testimonials
We are thankful for the generosity of Water Charity. Your donation allowed Epworth's residents to strengthen their relationships with one another. They did so by collaborating on the new well project. The well is continuing to unite them as they are working together to keep it secure, safe, and clean.
The well receives an estimated 2,000-3,000 visitors a week. Most visitors live in the well's vicinity. Others are travelers who formerly walked several hours to retrieve water from the rivers. We are already observing a decrease in infectious diseases. Clinic visits are down by 6%. We receive data from the clinics on a monthly basis. We will be sure to share this data with Water Charity as we regularly receive the reports.
School attendance has increased since the completion of the borehole well. Girls are attending their classes instead of sacrificing their days to fetch water. We have seen a 4% increase in school attendance since the borehole well opened to the public. These numbers are likely to continue rising. We are receiving monthly reports from the local schools to track school attendance and will be sharing these numbers with Water Charity as well.
We value your partnership in this project. It has been a pleasure to work with Water Charity to bring clean water to Zimbabwe. Thanks to your contribution, children in this region are able to attend school without sacrificing their education to retrieve contaminated water. Women are empowered to pursue career opportunities now that they do not have to sacrifice their days to fetch water. Young girls are attending their classes in school as well. Residents have access to clean water that they can use to bathe and wash their clothes. The hygiene of this region has improved significantly within weeks of the borehole opening to the public. The borehole will continue to increase the health and sanitation of this region over time.
We wish to express our sincere thanks to Water Charity for helping us serve the Epworth community. You have blessed these people with your generosity. The new borehole well has greatly contributed to the health and well-being of these people. It will continue to bless them every day.

To see project-related videos, CLICK HERE. To read about the beginning of this project, CLICK HERE.