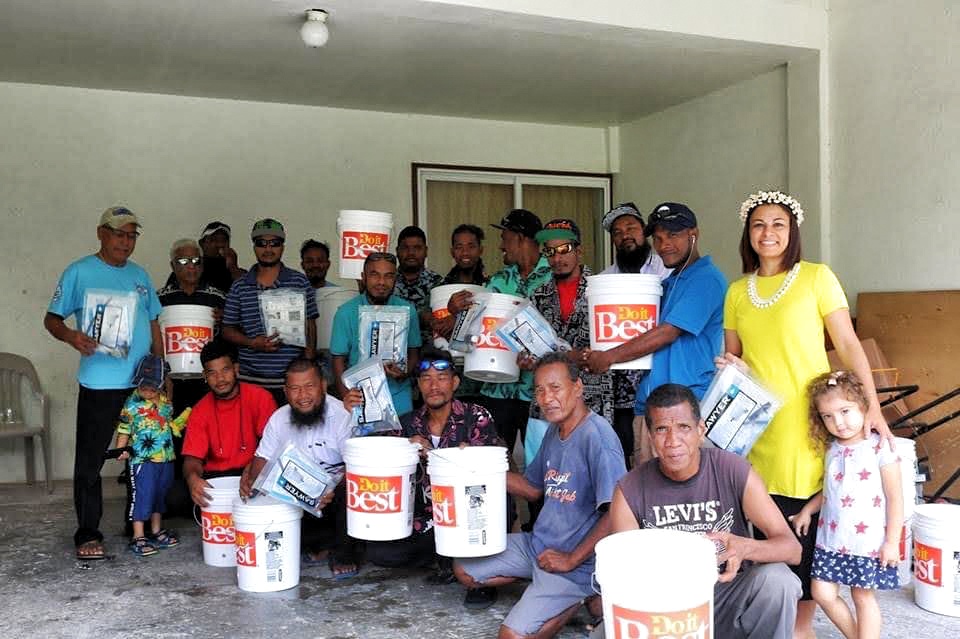 Water filter distribution – Marshall Islands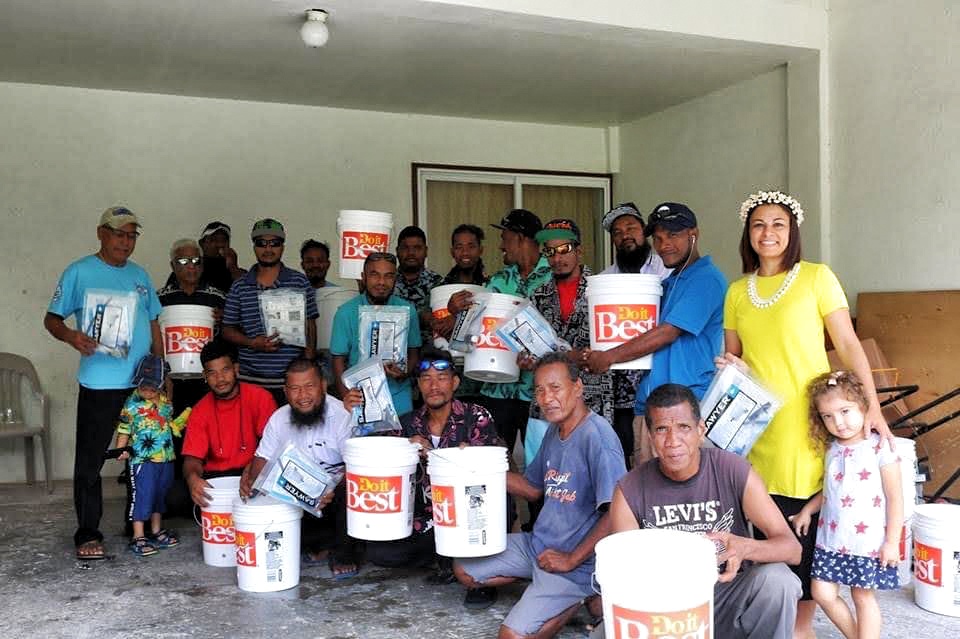 The availability of clean water is considered a basic human right, yet in many places, including the Republic of the Marshall Islands (RMI), access to clean water remains a significant challenge. More than one billion people in developing regions still lack access to safe water sources, leading to severe health issues. Every year, 2-3 million children under the age of five die due to diarrheal diseases, often contracted from contaminated water sources, with nearly 90 percent of these fatalities occurring among young children. Shockingly, an estimated 4,500 to 6,000 children perish daily due to water-related diseases. The World Health Organization reports that approximately half of the developing world's population is affected by six major diseases related to inadequate water supply and sanitation: diarrhoea, ascaris, dracunculiasis, hookworm, schistosomiasis, and trachoma. Nearly half of the people in the Marshall Islands are at risk of consuming contaminated water, affecting around 20,000 individuals. While some have access to improved water sources, only 58.8% of households employ proper water treatment methods, leaving the remaining 41.2% vulnerable to waterborne diseases.
The Marshall Islands face a critical shortage of fresh water, with a majority of households (about 79%) relying on rainwater catchments for drinking water. This means that roughly 80% of the total population, or approximately 42,854 individuals, heavily depend on collected rainwater for their water needs. Sadly, island water sources suffer from bacterial pollution, as evidenced by samples from Majuro's water company piping system showing contamination by total coliform and E. coli, both resulting from human and animal waste, leading to illnesses. Astonishingly, household water sources exhibit similar levels of contamination as urban areas, contributing to the increasing prevalence of waterborne diseases. Gastroenteritis ranks as the third most common cause of hospitalization among children under 5 years old in the Marshall Islands, with one in three Marshallese children experiencing stunted growth. Diarrhoea and intestinal parasites play a significant role in childhood malnutrition by reducing food intake, impairing nutrient absorption, causing direct nutrient loss, and weakening the immune system. Climate change exacerbates these challenges, with the Marshall Islands experiencing more frequent freshwater crises, including severe droughts in 2013 and 2016, where some individuals survived on less than a liter of water per person per day.
Project Details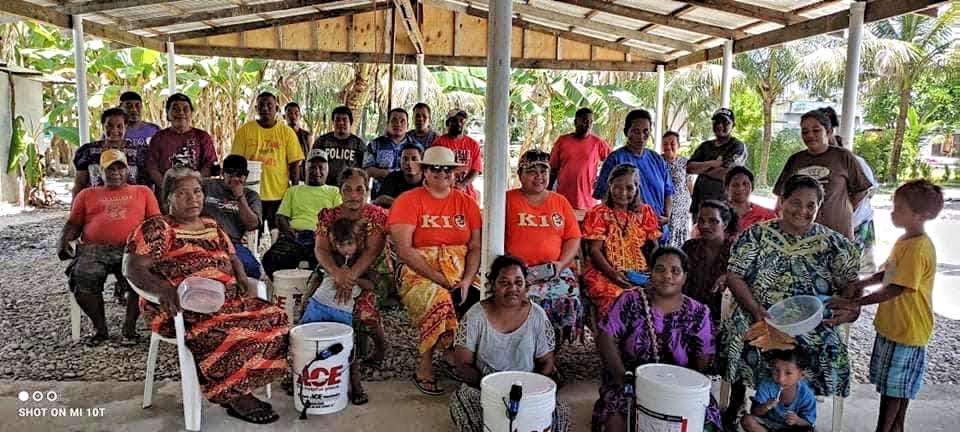 The objective of this project is to identify sustainable and socially viable solutions to address the problems associated with contaminated water. Various purification methods such as chlorination, distillation, boiling, sedimentation, and high-tech filters have been employed, but they encounter obstacles like high costs, maintenance requirements, reliance on fossil fuels, and long waiting periods. Our proposed solution involves distributing an affordable and effective water filter, the Sawyer One Point System, which operates without electricity and is both sustainable and environmentally friendly.
Phase I of the project positively impacted nearly 14,000 people across 21 of the 23 inhabited atolls in the RMI, excluding Majuro and Ebeye. Phase II extended its reach to 33,000 residents in the urban centers of Majuro and Ebeye. This initiative aims to reduce waterborne diseases stemming from unsafe water and water scarcity, including scabies, diarrhea, and typhoid, while also addressing water quality issues. It aligns with national frameworks and the United Nations Sustainable Development Goal (SDG) 6, which seeks to ensure the availability and sustainable management of water and sanitation for all.
Project Summary

Regarding project implementation, the Marshall Islands consist of 7,738 households, with over half residing in Majuro and Ebeye. Phase I prioritized the 22 outer island communities, focusing on the most vulnerable populations. Phase II expanded its efforts to Majuro and Ebeye, reaching 33,000 more individuals.
Water Charity collaborated with the KIO, the national government, local community leaders, and organizations to identify families in need of clean water filters. Recipients were educated on the importance of safe drinking water and proper hygiene, and the filters were installed with the help of various stakeholders. Ongoing costs were minimal, with local authorities and recipients entrusted with the long-term maintenance of the filters. The project aims to distribute filters to every household in need in the Marshall Islands.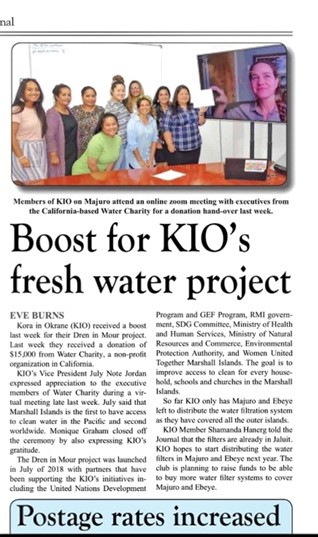 In February 2023, the project – Water is Life! successfully conducted water filter awareness consultations on Ebeye, distributing tap filters and bucket filters to households, churches, and schools. The initiative reached various communities, and follow-up surveys are planned to assess the effectiveness of the filters. The project is on the verge of providing 100% access to clean and safe water in the Marshall Islands.
Phase II, spanning from 2021 to 2023, targeted urban households in Majuro and Ebeye, distributing 900 filter systems on Ebeye and 3,968 filters on Majuro. Initial funding of $15,000 from Water Charity, facilitated this phase. Majuro Do it Best Company shipped filters from the U.S. mainland to Majuro and Ebeye Island. The World Health Organization (WHO) and the Ministry of Health and Human Services provided additional funding to cover travel expenses for members to travel from Majuro to Ebeye. Faucet filters were chosen for Ebeye, as most homes had access to household faucet systems. Training workshops and assistance with water filter distribution were conducted on the ground.
In Majuro, filter distribution began in Laura Village, extending to Rita, Delap, and Jenrok communities, with nearly 3,000 filters distributed to households by mid-July 2023. The project held a dinner event to acknowledge the collective efforts of those involved in ensuring access to clean and safe water for all communities in the Marshall Islands.
As of July 2023, Phase II has distributed an additional 5,000 water filters to urban households on Ebeye and Majuro, benefiting 33,000 more Marshallese individuals. Since the inception of the Dren In Mour project in 2018, nearly 8,000 water filters have been distributed across all communities in the Marshall Islands, fulfilling the goal of United Nations Sustainable Development Goal 6 on water. The project's success has been made possible through collaboration and commitment from various project partners.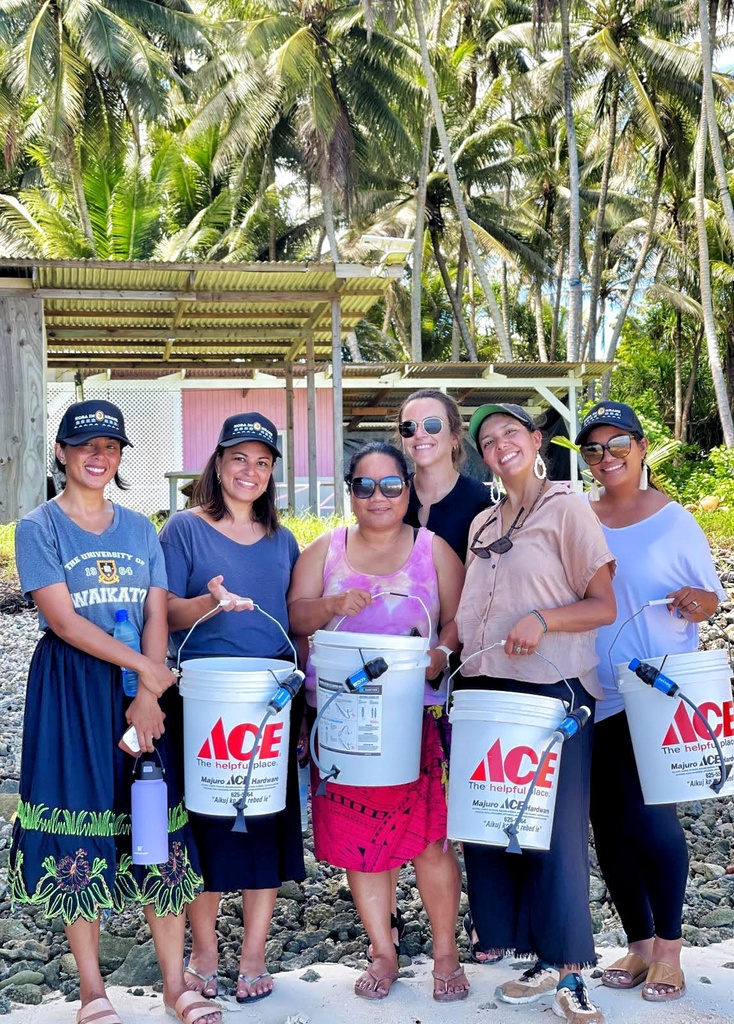 Phase III, planned for 2023-2024, aims to improve drinking water systems in public schools in the Marshall Islands, furthering the mission of providing clean and safe water to all residents. Despite significant infrastructure improvements in public schools, many still lack adequate access to safe drinking water.
Beneficiary Testimonials
Ronnie Lia Graham mentioned "It's dry in Rearlaplap now and this filter is saving lives….I drank coconut and waini for 3 days coz of no water in the house I stay at. That bucket with filter works! Wish I had my iPad with me to take pics."
Ekta Madan said "I am highly motivated to present my testimony of this filter before all of you and how it has changed my life. Earlier I used to fetch water from town to my place of stay in Rairok which was really cumbersome and expensive too including the taxi fare. I had to find out ways every week to have safe storage of water for my domestic use. It was a life-changing moment for me few weeks ago when I was introduced to this new tap filter by Ms Monique Strauss. The problem of purchasing filtered water bottles no longer exists I am using this safe small filter every day to fill my water from my catchment on a regular basis. So far I have not found any physical illness due to consumption of water using this filter but I feel more empowered as it saves my time, money and efforts to spend on drinking water which is our natural resource. DREN IN MOUR. Thanks to all the project people for providing this valuable filter to all people in Majuro."
Molly Murphy stated "The Water is Life project is hands down one of the most valuable projects implemented in our communities and we at MIEPI feel privileged to have been able to provide some support. I for one am a recipient of the water filter distributed here in Ajeltake. The filter has improved life for my family in many ways. We no longer need to haul heavy water jugs between Ajetake and town just so we can access clean drinking water. It has also saved us money."

The funds for this program have been advanced by Water Charity. Your donation using the Donate button will ensure that we have funds available to accomplish this project. Kindly donate using the button.
This project has been completed. To read about the beginning of the project, CLICK HERE.