Youth Café & Learning Center Bathroom Project – Georgia
Location
Rustavi, Kvemo Khartli Region, Georgia
Community Description
Rustavi, Georgia is located just 25 km from the capital city Tbilisi. Even though Rustavi is one of Georgia's larger cities, it is considered rural, with its small diverse communities.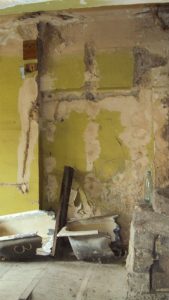 Georgian Youth for Europe (GYE) works mainly with young people aged 12-25, with a mission to empower youth of the Kvemo Kartli Region of Georgia to achieve their full physical, intellectual, emotional, social, and spiritual potential both as individuals and as responsible citizens.
GYE pursues multiple program directions to achieve this mission. It promotes learning through peer-education training and workshops on art and management, healthy lifestyles by organizing outdoor activities, hobby clubs, and first aid courses, democratic principles by offering trainings on human rights, environmentally-conscious behavior, by raising public awareness about environmental issues through demonstrations, yard clean-up campaigns, after-school environmental education, movie-making on environmental problems, Eco-Gardens, and activities to recycle litter into saleable products.
The Youth Café & Learning Center is in need of a complete renovation, including to its sanitation facilities.
Project Description
This project is to build bathrooms and a wash area at the Youth Café & Learning Center.
The water source will be a water tank on the roof of the adjoining apartment building. The water lines will be connected through the outside wall of the apartment building.
Four water lines will be run into the two separate bathrooms and a sink room. There will be a cold and hot water line for the sink and two cold water lines going to each of the two toilets. The drain lines will run from both the toilets and sink in through the wall to the outside tank.
The project will be implemented under the direction of GYE. Master plumbers and electricians are available to do the work.
Water Charity funds will be used for the plumbing materials, including piping for the supply and drain lines. They will also be used to purchase two Western-style toilets, one for men and the other for women, and one communal sink, to be located on the outside of the closed-door bathrooms.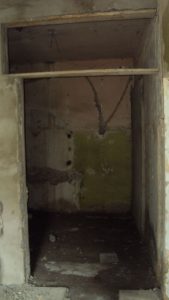 The bathrooms and wash area project constitutes a portion of a larger endeavor to renovate the space to be used by the Youth Café & Learning Center. It includes new floors in the Youth Café, new windows, doors, walls, lighting, equipment, and furniture. The new space will be connected to the existing office space.
Project Impact
Over 100 youth and volunteers will benefit from the project within the first year.
Peace Corps Volunteer Directing Project
Gus Davidson
Comments
This is an important project to enable a local organization to deliver needed services to an unserved community.
Dollar Amount of Project
$555.00
Donations Collected to Date
$0.00
ADOPT THIS PROJECT BY CONTRIBUTING THE DOLLAR AMOUNT NEEDED BELOW
Donations of any amount will be appreciated. The full amount will give you "naming rights", if that is something you would like.
Any contributions in excess of the Dollar Amount of the Project will be allocated to other projects directed by this PCV and/or projects of other PCVs in this country.
Dollar Amount Needed
$555.00

This project has been finished. To read about the conclusion of the project, CLICK HERE.