Window on America Library Bathroom Project – Ukraine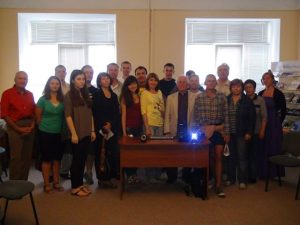 Location
Vinnytsia, Vinnyts'ka Oblast, Ukraine
Community Description
Vinnytsia, with a population of about 380,000, is the administrative center of Vinnytsia Oblast and the largest city in the historic region of Podolia.
Vinnytsia is located about 260 km west of the Ukrainian capital of Kyiv, 429 km north of the port city of Odessa, and 369 km from Lviv.
The Window on America Library is an active entity in the city of Vinnytsia. Activities take place every day, in addition to regular daily use of the English and Polish book collections.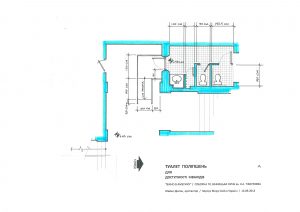 With an average of 25 participants at each program, a total of over 100 people are served each week.
There are about 300 people with disabilities who cannot now access the Window on America programs.
Problem Addressed
Supply and waste piping in the bathroom, installed in the 1930's, are clogged and corroded, making the facilities inoperable. Furthermore, the toilets are not handicapped accessible.
Project Description
This project is to renovate the bathroom at the library to provide for handicapped accessibility and make necessary sanitary improvements.
A new toilet and sink will be installed. Supply and waste piping will be replaced, and the space will be rearranged to meet handicapped accessibility dimensional needs.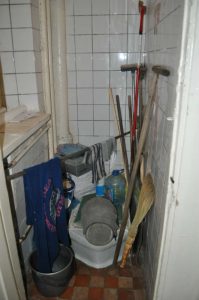 New floor tile, new toilet stall partitions, wall painting and handicapped friendly accessories will be provided to supplement the work.
A professional general contractor has been identified to execute the work, along with his specialty plumbing contractor.
Water Charity funds will pay for the fixtures, piping, and materials, and pay for the skilled labor.
After this project is completed, it is expected that a ramp will be installed by the library to provide better access for patrons with disabilities.
Project Impact
300 people will benefit from the project
Peace Corps Volunteer Directing Project
Michael Dixon
Comments
This project will provide for inclusion of all persons with disabilities while making the facilities more sanitary and efficient for all who use the services of the library.
Dollar Amount of Project
$555.00
Donations Collected to Date
$555.00
Dollar Amount Needed
$0.00 – This project has now been fully funded through the generosity of James Berg, of Paradise Valley, AZ, USA, with the help of friends and family of Peace Corps Volunteer Michael Dixon.
We encourage others to continue to donate using the Donate button below, and we will notify Michael of your donation. Additional funds will be used to fund the next project by Michael and/or those of other PCVs in the country of service.
To see a progress report on the project, CLICK HERE.
To read about the conclusion of the project, CLICK HERE.