Vinnytsia Khutory School Bathroom Project – Ukraine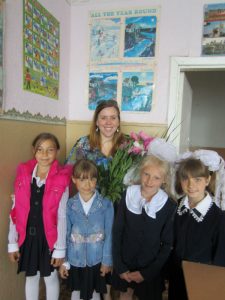 Location
Vinnytsia Khutory, Vinnyts'ka oblast, Ukraine
Community Description
Vinnytsia Khutora is a small village located to the southeast of the oblast capital Vinnytsia. There are approximately 6,000 people in the village, the majority of which are involved in agriculture. There a few small shops, a post office, an administration building, a school, a church, a village library, and a cultural building.
Vinnytsia Khutora School was built in 1978. It is the only school in the village, with less than 500 students from 1st to 11th form. The school has two sports halls, a dining room, 18 classrooms, an assembly hall for 150 students, a training ground, and a room for labor training.
Currently, two single-toilet bathrooms are used by the 40 teachers, secondary school students, and visitors. The bathrooms have never been renovated. The toilets are damaged and do not flush properly. They need to be manually plunged on a regular basis. One of the faucets on the sink is completely broken and the sinks themselves are cracked and stained. The current bathrooms are a major health and sanitation concern for the school and community.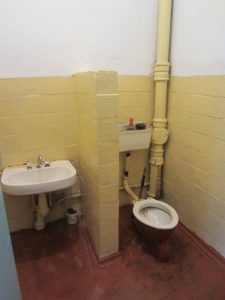 Project Description
This project is to renovate two existing bathrooms at Vinnytsia Khutora School.
The two current bathrooms will be demolished. The two damaged toilets, two sinks and pipes will be removed. New piping and fittings will be installed to improve sanitation flow. The floors will be tiled and finally, the toilets and sinks will be installed.
Water Charity funds will be used to purchase two new toilets, two new sinks with working faucets, replacement piping, and floor tiles and glue.
The project will be overseen by the Vinnytsia Khutora School staff. The installation will be carried out by trained school staff and community members. Teachers will contribute $110 to pay expenses not covered by Water Charity.
Project Impact
This project will directly benefit the 40 teachers, secondary school students, and school visitors.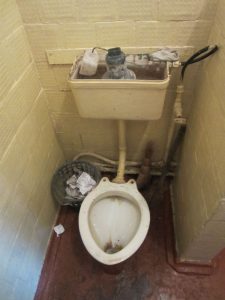 Peace Corps Volunteer Directing Project
Anna von Reyn
Comments
This is an important infrastructure project that will greatly benefit the health and well-being of a significant segment of the school population.
Dollar Amount of Project
$555.00
Donations Collected to Date
$555.00
Dollar Amount Needed
$0.00 – This project has been fully funded through the generosity of the Wilco Krul, of Eindhoven, Netherlands.
We encourage others to continue to donate using the Donate button below, and we will notify Peace Corps Volunteer Anna von Reyn of your donation. Additional funds will be used to fund the next project by Anna and/or those of other PCVs in the country of service.

This project has been finished. To read about the conclusion of the project, CLICK HERE.