Tilouguite Elementary School Bathroom Project – Morocco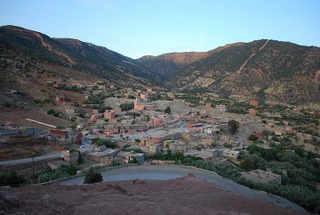 Location
Tilouguite, Azilal Province, Tadla-Azilal, Morocco
Community Description
Azilal is a province in the central Moroccan region of Tadla-Azilal, with a population of over 500,000 people.
The village of Tilouguite is the market town for the smaller surrounding villages. The population of about 5,000 consists mainly of farmers who grow a variety of crops: apples, wheat, figs, walnuts, olives, and almonds. Tilouguite has the only middle school in the area.
Tilouguite Elementary School is a large eight-room elementary school that provides education to about 500 students.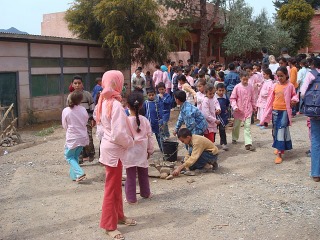 The old bathrooms in the school are not suitable for use, as they do not have running water and are very unsanitary.
Project Description
This project is to bring water into the school and build a new bathroom.
An old room inside the school grounds will be renovated to create the new bathroom. No additional cosmetic work will be required.
The project is being implemented by the Association Nor in coordination with the teachers.
Piping will be run approximately 80 meters underground from the water supply to the faucet in the new bathroom. The faucet will be located next to the toilet plate, to be used for washing, flushing the toilet, and cleaning.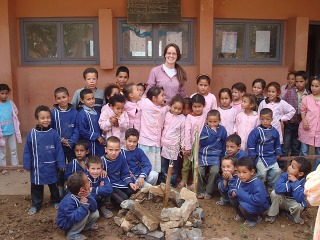 A plumber will be hired to install the bathroom plate, water supply pipe, and drainage pipe.
Waste will flow through the pipe to a drainage hole dug outside of the building. The drainage hole will be filled with large rocks and covered.
The waste will slowly decompose and seep into the surrounding soil. There is no danger of water contamination as all usable water is piped in from the local spring.
Project funds will pay for materials, including 80 meters of water pipe, 3 meters of drainage pipe, a toilet plate, a water tap, and cement.
Project funds will also pay for labor, including for the digging of the drainage hole and for the work of the plumber to install the toilet and running water.
Project Impact
500 students and 16 teachers will benefit from this project
Peace Corps Volunteer Directing Project
Erin Cubley
Comments
This is an inexpensive project that makes use of an existing resource to create a very necessary sanitary facility. It is bound to have an impact on the health and well-being of the students attending the school.
Dollar Amount of Project
$244.00
Donations Collected to Date
$244.00
Dollar Amount Needed
$0.00 – This project has been fully funded through the generosity of Anissa Weisel and Kids for Water.
We encourage others to continue to donate using the Donate button below, and we will notify Peace Corps Volunteer Erin Cubley of your donation. Additional funds will be used to fund the next project by Erin and/or those of her counterpart PCVs in Morocco.
This project has been finished. To read about the conclusion of the project, CLICK HERE.