Svey Leu High School Latrine Project – Cambodia
This project is made possible through the partnership of WATER CHARITY and the NATIONAL PEACE CORPS ASSOCIATION.

This is a project under the LET GIRLS LEARN Program, a collaboration of First Lady Michelle Obama and the Peace Corps to expand access to education for adolescent girls around the world!
Location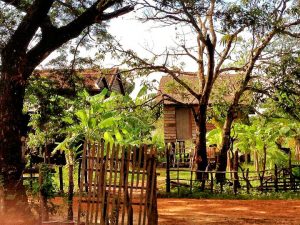 Svey Leu district, Siem Reap province, Cambodia
Community Description
Svey Leu is a district of Siem Reap Province, in northwestern Cambodia. According to the 1998 census of Cambodia, it had a population of 12,869. The High School there serves a very large district, and some of the neighboring districts do not have high schools.
Svey Leu High School has 425 students (246 female, 179 male) who must moto, bike, or walk far distances if they wish to attend classes. It is also part of Cambodian culture to return home during the mid-day break to have lunch with one's family. Students consequently travel to and from school 4 times within one school day.
Problem Addressed
The Svey Leu High School lacks hygienic latrines. Currently, there is only one set of co-ed latrines available for student use. The school also lacks a working water system preventing proper upkeep of latrines. Female students in particular face difficulties due to these shortcomings as many decide not to attend school when menstruating. These students, therefore, miss about a week of classes every month. The lack of appropriate latrines creates a barrier for female students to keep up throughout the school year, which greatly jeopardizes their potential to graduate and pursue a career.
Due to the school's deficient latrine facilities and water system, female students are discouraged from attending school once a month when menstruating. Given the pre-existing lack of emphasis and support for female education in Cambodian society, projects like this are necessary to remove barriers and advance gender equality.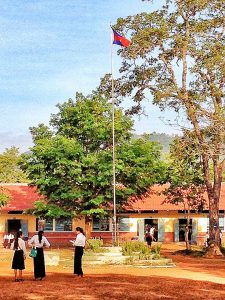 Project Description
This project aims to build 2 new latrines, specifically for female students, and construct a water system to ensure adequate water year-round to keep the latrines functional.
Some of the school's teachers and students will assist in the construction of the water system. Having those who will benefit from the latrines involved in the building process invests them in the success and sustainability of the end product. Additionally, we hope the female students will realize the importance of their education by seeing the support provided to them by their school staff and fellow students.
The success of this project will be measured by distributing anonymous surveys to all female students, both before construction and 6 months following completion. These surveys will ask how the state of our school's latrines affects female attendance. It is expected that the new latrines and water system will better allow female students to pursue their studies.
Project Impact
246 female students and the female teachers benefit directly, as will future students who have yet to attend the school. In addition, a large number of current and future family members will benefit indirectly.
Peace Corps Volunteer Directing Project
Ann Choi
Monitoring and Maintenance
The school will be responsible for seeing to the upkeep of the latrines.
Comments
This project is also known as "LGL-15-303-001 Increasing Female High School Attendance" and is the very first project to be implemented under the Let Girls Learn Program.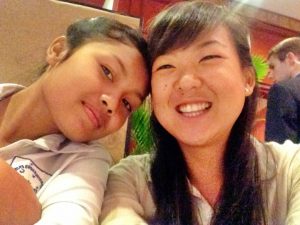 The high school's Director, Sokkhun Khat, and Vice Director, Bonyong Soun, approached Ann with this particular project as they had seen a long-standing need to improve the school's latrine facilities. Both Mr. Khat and Mr. Soun are highly respected in the community, and they can efficiently and effectively motivate the construction workers, teachers, and students in building the latrines and water system.
Mr. Soun will also be involved in drafting the surveys to track the progress of the project, in order to ensure that the wording of these surveys is culturally appropriate. Mr. Khat and Mr. Soun together will ensure the proper use and upkeep of the new facilities in order to sustain support for female students by keeping down barriers to their education.
Dollar Amount of Project
$2,700
Donations Collected to Date
$2,700
Dollar Amount Needed
$0 – This project has now been fully funded through the generosity of the Robert Victor Sager and Beatrice Mintz Sager Foundation.
This project has been COMPLETED. To see the conclusion of the project CLICK HERE.
Additional donations will be used for other projects in Cambodia.