Sovetskiy Regional Creativity Center for Children and Youth Sanitation Project – Ukraine
Location
Sovetskiy, AR Crimea, Ukraine
Community Description
Sovetskiy district is located in a rural area, 120 km northeast of Simferopol, capital of AR Crimea. It consists of 40 small family farming villages mainly producing grains and vegetables. Its population of approximately 35,000 is diverse with Ukrainian, Russian, Crimean Tartar, and other minorities.
Sovetskiy Regional Creativity Center for Children and Youth (The Center) is a comprehensive extracurricular educational institution located in the Town of Sovetskiy, the district center of Sovetskiy. Its main activities are on artistic and aesthetic, scientific, humanitarian, tourism, and regional studies to promote the development of talents in children and youth.
The Center provides after-school programs for 305 elementary school students in Sovetskiy district on a regular basis. Children come to The Center to engage in handicrafts, visual arts, music, dance, drama and chess classes. In addition, The Center is frequently used for concerts, contests, and tournaments for students from 16 schools and disabled children in Sovetskiy District, as well as for various meetings and seminars for teachers and community members throughout the year. The center also houses an NGO, Perspektiva with seven staff and volunteers.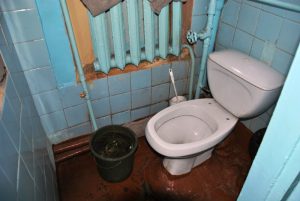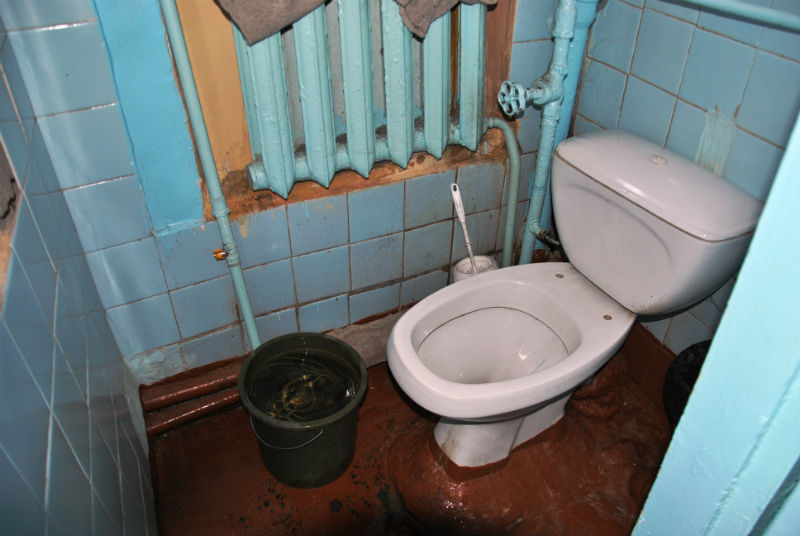 The cesspool that is connected to The Center is very close to the building and cannot handle large drainage since it will damage the foundation of the building. Therefore there exists only one toilet for the whole building, with a limited supply of water, in order to control the volume of drainage.
Currently, the toilet tank has been disabled and only bucket water is used to flush the toilet, which small children are not able to handle. It is causing serious sanitary and odor problems, not to mention not being able to meet the needs of children and community members on a daily basis.
Project Description
This project is to remediate all of the sanitation problems at the school.
The existing sump and plumbing will be renovated to handle a larger volume of drainage, and the existing toilet facility will be replaced.
The existing sit-down- toilet will be converted to a squat-down style that is more commonly used for school children in Ukraine. A urinal for boys, a new sink, and a ventilation system will be added.
The work will proceed as follows:
Dig a 1.5m x 1.5m x 1.5m hole outside next to the building. Line the hole with bricks and cover it with a concrete slab. Install 5.1 cubic meter sewer trench and 7.5m sewer pipe.
Dismantle old plumbing and equipment – toilet, sink, faucet and pipes. Install new plumbing and equipment including a new urinal.
Relocate the existing toilet door to next to new urinal. Install a forced-air ventilating fan on the wall, and paint the interior.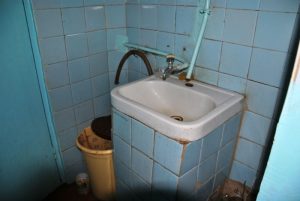 Project funds will be used to pay for equipment, materials, and labor.
Community members will donate the paint and paint the interior after repair work is finished by a local contractor.
Project Impact
This project will benefit 305 students and 10 staff members.
Peace Corps Volunteer Directing Project
Joohee Lee
Comments
This is an essential infrastructure project to ensure the health and well-being of the students and staff.
Dollar Amount of Project
$555.00
Donations Collected to Date
$555.00
Dollar Amount Needed
$0.00 – This project has now been fully funded through the generosity of the SLOW LIFE Foundation as a part of their Clean Water Projects initiative, with the assistance of friends and family of Peace Corps Volunteer Joohee Lee.
We encourage others to continue to donate using the Donate button below, and we will notify Joohee of your donation. Additional funds will be used to fund the next project by Joohee and/or those of other PCVs in the country of service.

This project has been finished. To read about the conclusion of the project, CLICK HERE.