Sithian Siring School Bathroom Project – Senegal
This project is made possible through the partnership of WATER CHARITY and the NATIONAL PEACE CORPS ASSOCIATION.

Location
Sithian Siring, Department of Dabo, Kolda Region, Senegal
Community Description
Sithian Siring is located in the region of Kolda in the southern part of Senegal. The ecoregion classification is known as the Guinean Forest Savanna Mosaic characterized by alternating regions of dense forest and secondary savannas.
The climate is hot and humid, with average maximum temperatures above 86°F throughout the year. Rainfall is usually over 60 inches to the far south.
This region predominantly consists of subsistence farmers who derive their income primarily through farming. The main ethnic group is the Fula people which are known mainly as herdsmen and have only recently been involved in traditional agriculture practices.
Sithian Siring has located nearly 8 km from the national road which provides the main economic opportunities for the area.
The population is around 145 people, varying slightly during times when children go away from school and dry season when younger males leave to work in larger cities. The main cereal groups grown are sorghum and corn, with groundnuts being grown as a cash crop.
Problem Addressed
The primary school is located between the villages of Sithian Mamadou Giro and Sithian Siring. Students from both villages attend the school, servicing approximately 75 students. There is not a proper bathroom, so sanitation is nearly impossible without students and teachers taking valuable time to go back to the village to use the restroom.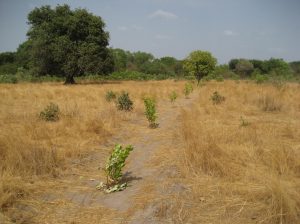 Project Description
This project is to build a bathroom at the school.
The project will be carried out under the direction of the Sithian Siring Women's Group, working with school administration. They have already helped clear and prepare the land.
For the building materials, it was decided that concrete blocks would provide the most solid structure. The doors will be made from metal, as wood quickly deteriorates.
The basic design, using a squat toilet, will ensure functionality and longevity. A tippy tap handwashing station will be simple, familiar and long-lasting.
The mason has been contacted and the site is already determined. The plans have been developed and all the work has been planned.
Water Charity funds will pay for the materials. These will be purchased by the Peace Corps Volunteer. Transportation of the materials to the construction site has been arranged.
With timing at the end of the rainy season, rain delays could pose a potential challenge but even in rain, the construction will be completed in a timely and professional manner.
Project Impact
The project will benefit 75 students.
Peace Corps Volunteer Directing Project
Jacob Watson
Monitoring and Maintenance
The latrine will be monitored and maintained by the school staff.
This project has been funded by a donor who chooses to remain anonymous.
This project has been completed. To read about the conclusion, CLICK HERE.