Sicchezpampa Latrine Project – Peru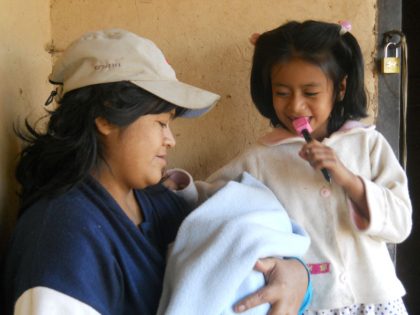 Location
District of Sicchez, Province of Ayabaca, Department of Piura, Peru
Community Description
In 2010, 427 cases of parasites were reported and 310 cases of diarrheal illness were treated in the health post. 46% of examined children were found chronically malnourished. The children of Sicchezpampa are adversely affected by this reality. Mental and physical developments are affected by unhygienic practices. The adequate use of a latrine acts as the incentive for changes in behavior and house infrastructure, bringing hygienic practices and improving health status.
Project Description
This project is to build 40 latrines in Sicchezpampa.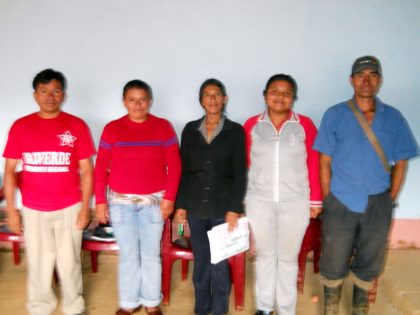 The project is being implemented under the direction of the Committee of Healthy Homes, Sicchez. Dry hole technology will be utilized, which is best utilized for locations where water is available only in small amounts. Families will be responsible for excavating a two-meter by one-meter circular hole and reinforcing the pit lining with adobe bricks down to one-half meter.
Concrete, reinforced with iron rods, will be used for the platforms. Under the supervision of a master builder, teams of families will work together to fabricate the one meter by one meter reinforced concrete slabs with two holes, one for excrement and the other for a plastic ventilation tube which will allow the gases to escape.
Once the cement platform is rolled into place, families will also be responsible for constructing the superstructure of adobe or sugar cane bark with a door that can be closed and also for preparing a wooden top to cover the excrement hole for hygiene purposes.
The local municipality will provide tin roofing for each latrine ceiling.
Project funds will be used to buy 40 plastic tubes for ventilation, 25 bags of cement and iron reinforcements for the latrine platform.
As a condition for participation, families are required to attend 4 training sessions on hygiene practices, and also to bring their children to monthly weight and height controls at the local health post. Behavior changes of the families will be monitored by the health promoter and the committee in bimonthly house visits. Hand-washing stations and readily available safe drinking water in the house are also required.
Project Impact
40 families with 184 individuals will benefit from the project.
Peace Corps Volunteer Directing Project
Emily Topalanchik
Comments
It is anticipated that the families will change hygienic practices, with a resultant reduction in the incidence of parasitic and diarrheal disease, accomplishing a diminution of malnutrition by 20%.
The project accomplishes a tremendous amount with limited funding. It requires full participation by the beneficiaries, using project funds only for the materials, thus ensuring compliance and sustainability.
Dollar Amount of Project
$500.00
Donations Collected to Date
$500.00
Dollar Amount Needed
$0.00 – This project was fully funded, through the generosity of the Elmo Foundation. However, it was determined to be infeasible by the PCV, with no expenditure of funds. The donation is being re-allocated.