Sefwi-Bonwire School Rainwater Harvesting Project – Ghana
Location
Sefwi-Bonwire, Akontombra District, Western Region, Ghana
Community Description
Sefwi-Bonwire is a small community of approximately 600. It is a cocoa-farming community that comes from the kente-weaving town of Bonwire in the Ashanti region. The town has one borehole, as well as some nearby, non-flowing, streams. The town was wired for electricity in December 2012.
The town is beginning a latrine project, in which 15 household latrines with handwashing stations will be constructed. Through that, a reinstated WATSAN committee will start a campaign to encourage handwashing throughout the town.
There is currently a primary school and a junior high school in town, both on the same plot of land. There are two open-air public latrines and six household toilets, four of which are in teacher quarters.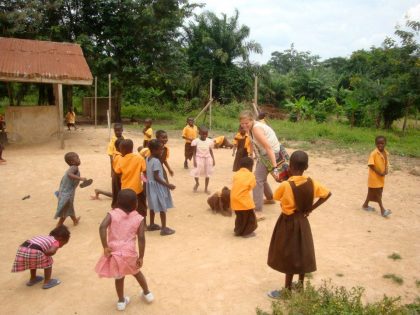 500 students, many of whom come from neighboring towns, attend the two schools.
Students currently spend at least 30 minutes each morning collecting water from the borehole to bring to the school for drinking throughout the day.
Project Description
This project is to build a rainwater harvesting system and handwashing station at the site shared by the primary and junior high schools.
Under the direction of the Sefwi-Bonwire PTA, the project will result in a poly tank with gutters to collect rainwater and an attached spout, to be used as a handwashing station for both schools.
The gutters will be attached to the side of the roof and then additional gutters will be attached on one end to angle them into the poly tank.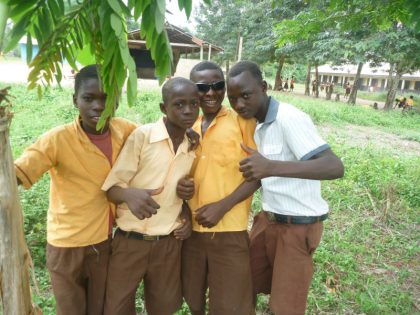 The platform for the tank will be built on a round structure of bricks with a cement covering.
A soak-away pit will be dug beneath the faucet for runoff.
Masons in the town will assemble the structure and the gutters.
Water Charity funds will be used to purchase the tank, faucet, and cement. Any additional funding will be covered by the school.
The joint PTA will fund the sand, gutters, piping and fittings.
Project Impact
500 people will benefit from the project.
Peace Corps Volunteer Directing Project
Gayle Robinson
Comments
This is an excellent infrastructure project to provide for the water and hygiene needs of the schools
Dollar Amount of Project
$555.00
Donations Collected to Date
$555.00
Dollar Amount Needed
$0.00 – This project has been funded through the generosity of the Paul Bechtner Foundation with the help of friends and family of Peace Corps Volunteer Gayle Robinson.
We encourage others to continue to donate using the Donate button below, and we will notify Gayle of your donation. Additional funds will be used to fund the next project by Gayle and/or those of other PCVs in the country of service.
This project has been finished. To read about the conclusion of the project, CLICK HERE.