Sawahan Toilet Project – Indonesia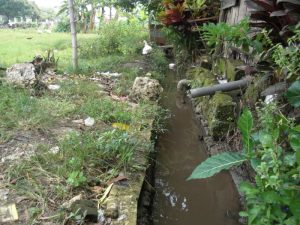 Location
Sawahan Sub-Village, Rengel Village and Sub-Regency, Tuban Regency, East Java Province, Indonesia
Community Description
Sawahan is one of three sub-villages that make up the hot and humid town of Rengel on the banks of the Bengawan Solo, one of Java's most flood-prone rivers. Sawahan has 2,645 residents or 678 households.
The majority of families in Sawahan and in Rengel are rice farmers and benefit from the natural irrigation of Bengawan Solo that runs through their neighborhood via small canals. The river ends north of Sawahan in a cave called "Goa Ngerong" that serves as the area's main tourist attraction site because of its bats and fish. On its way to Goa Ngerong and at the cave itself, the river water is used by many for swimming, showering, washing clothes, and defecating.
Problem Addressed
Open-air defecation very obviously leads to poor health and a dirty environment. It is a community behavior that is particularly hard to eradicate in rural communities that have limited access to sanitation facilities and that are close to rivers because of the ease and free alternative of defecating into rivers. It is a problem that Indonesia as a whole has been looking to tackle with a community-driven strategy called Community-Led Total Sanitation (CLTS), involving local shareholders and community health clinic (puskesmas) sanitation workers 'triggering' communities towards becoming open defecation free (ODF) communities since 2005.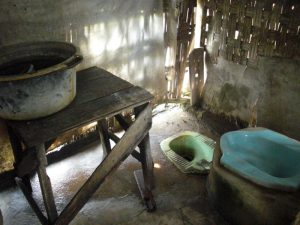 A World Bank-administered initiative, Water and Sanitation Program (WSP), estimates economic losses for the country from poor sanitation and hygiene at USD 6.3 billion per year.
WSP has not been active in the regency of Tuban yet, but puskesmas nurses have already started implementing the positive strategies of the research-in-action that has resulted from WSP.
The sub-village of Sawahan is particularly at risk because Bengawan Solo runs through it, and many households do not have their own toilet facilities yet. A year ago, the puskesmas nurses tried "triggering" 3 'arisan jambans' in Sawahan. Arisans are a traditional Javanese form of micro-credit whereby neighbors save money together regularly and each member of the arisan takes a turn receiving the saved funds.
Two of the arisan jambans in Sawahan failed, but one has completed one year with 32 heads of households (KK) contributing Rupiah 20,000 (about USD $2) every month for 32 months to receive a simple toilet that costs Rp. 640,000. The 32 KK meet every 15th of the month with various representatives of the puskesmas to talk about better hygiene practices and to socialize. So far, 12 households have gotten their toilets in their homes.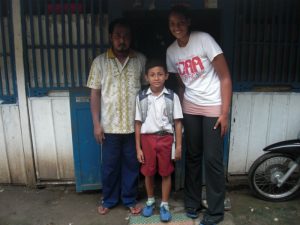 Project Description
This project is to build 8 toilets for families in Sawahan.
This project will be implemented by Arisan Jamban Sawahan (head: Pak Marzuki) and Bu Anis (nurse acting as head of water sanitation at puskesmas Rengel).
Water Charity funds will pay for materials, including water closets, piping, and septic tanks, and for local labor.
The arisan will continue to work as planned, and families will still be expected to pay the Rp. 20,000 per month so that the project will continue to prove that Rengel has the potential to become open-air defecation-free subsidy-free.
The surplus money collected in the months to come will finance a large promotion for healthy toilets (jamban sehat) during the month of August when Indonesian independence is celebrated with a village-wide carnival, and for the increased triggering of behavioral change through educational events and community monitoring against open-air defecation.
Project Impact
About 40 people, comprised of 8 families, will benefit from the project.
Peace Corps Volunteer Directing Project
Martine Randolph
Comments
The speed and ease at which the project is completed, as well as the visible results, will create a model that will assist in triggering the participation of other communities.
Dollar Amount of Project
$555.00
Donations Collected to Date
$555.00
Dollar Amount Needed
$0.00 – This project has been funded through the generosity of the Paul Bechtner Foundation.
We encourage others to continue to donate using the Donate button below, and we will notify Peace Corps Volunteer Martine Randolph of your donation. Additional funds will be used to fund the next project by Martine and/or those of other PCVs in the country of service.

This project has been finished. To read about the conclusion of the project, CLICK HERE.