Savannah Water Spring Project – Kenya
Location
Savannah area in Ndivisi Location, Magemo Sub-Location, Webuye Division, Bungoma East District, Western Province, Kenya
Community Description
The Savannah community consists of approximately six-thousand people across six rural villages (Makhese village, Matoma village, Savannah A village, Savannah B village, and Tete village). It is an agricultural-based community with a very limited infrastructure: it has one public school and one private school with a total of three-thousand students and eleven teachers, one orphanage of two-hundred children, and no community health center.
The poverty level of the community is very high due to the limited incomes of small-scale farming and lack of community education. Additionally, diseases like HIV, Malaria and TB also significantly impact individuals' ability to provide for themselves and for their families.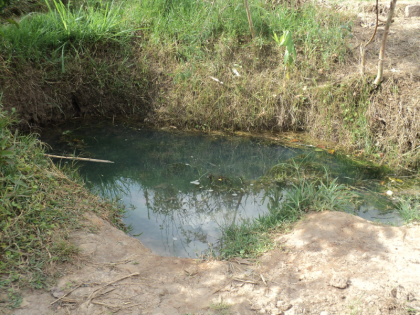 Access to clean water is a principal concern for all of the Savannah community. Unfortunately, poverty has also prohibited the development of reliable water reservoirs and catchment systems. There are currently no public boreholes or water taps and the community's only public water spring has been closed up due to soil erosion. Now, public water retrieval is on average a two hour round trip walk to the only developed water spring in a neighboring community. The only other available sources of water are from a few undeveloped streams and natural springs spread around the community.
Project Description
This project is the construction of a centralized piped water spring for the six rural villages of the Savannah community.
It will be constructed by a team of 4 certified masons, each of which has experience in the construction of this specific type of water spring (around 15 in the provincial division). A community development committee has been set up in order to manage the project and both a construction manager and a finance manager have been designated in order to keep the project on schedule and under budget.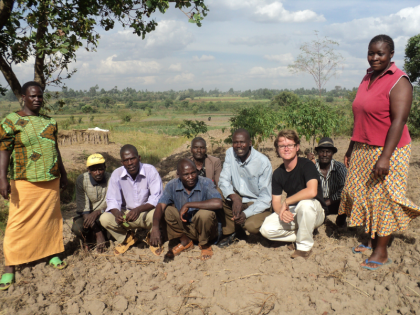 The spring pool itself will be dug out and filled with large stones for the foundation core followed by a layer of polythene paper, mesh wiring, gravel, and top soil. A brick and cement dam will be constructed at the base of the former pool, with two piped water spouts for access. Construction is expected to be completed in 7 days.
This project will be located only a few hundred meters from the nearby primary school. It will provide the entire community, including the nearby primary school, orphanage, community livestock, and crops with improved access to clean water.
Project funding will cover the entire cost of construction and all construction materials, including bricks, cement, lumber, sand, water piping, and mesh wire.
Project Impact
Approximately 6,000 people across 6 communities will benefit from this project.
Peace Corps Volunteer Directing Project
Brian Shultzabarger
Comments
This project is critically needed to serve the water needs of a huge number of people. It will eliminate the burden of traveling great distances in order to retrieve water. It will also serve to reduce the number of water-borne infections resulting from unmaintained water sources in the area.
Dollar Amount of Project
$500.00
Donations Collected to Date
$500.00
Dollar Amount Needed
$0.00 – This project has now been fully funded through the generosity of The Soneva SLOW LIFE Trust as a part of their Clean Water Projects initiative.
We encourage others to continue to donate using the Donate button below, and we will notify Brian of your donation. Additional funds will be used to fund the next project by the PCV and/or other projects in the country of service.
This project has been finished. To read about the conclusion of the project, CLICK HERE.