Phnom Touch Health Center Water Project – Cambodia
Location
Phnom Touch Village, Banteay Meanchey Province, Cambodia
Community Description
Phnom Touch is a village of 11,000 people, located south of the district town of Mongol Borey, in Banteay Meanchey Province, Cambodia. Many people generally drink unsanitary water, and there few sanitary facilities.
The most common occupation in Phnom Touch is rice farming. There are limited educational opportunities, and the people are generally considered to be the poorest in Cambodia.
In the Phnom Touch Health Center, there are 9 staff members who see dozens of patients in each of the seven treatment rooms. Due to a lack of water in the rooms, they work in an environment that cannot maintain proper standards of sanitation and hygiene.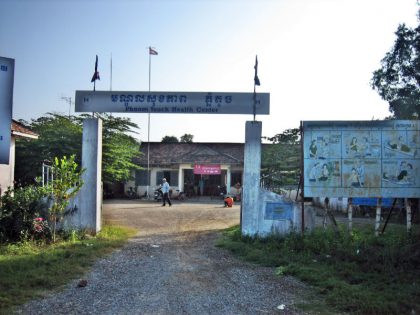 Project Description
This project is to provide a water supply to the health center, and to purchase and install three sinks for sanitary handwashing.
Sink #1 will go into the pre-natal care room, to which dozens of women come for evaluations and regular checkups leading up to the birth of their child. It will provide the staff the ability to wash their hands after checking individual patients and practice sanitary conditions.
Sink #2 will go inside the immunization room. This room is often flooded by patients in need of vaccinations. Staff will be able to wash their hands when treating patients. Sink #3 will be placed outside of the health center's bathrooms. The easy accessibility will promote proper hand sanitation for all visitors to the health center.
Water Charity funds will be used to purchase the sinks and piping, and to pay for the skilled laborer to complete the project.
Project Impact
Every month up to 300 women come for evaluations and checkups in the pre-natal care room. In the immunization room, every month there are a minimum of 150 patients. Thus, this project will benefit about 5,400 people annually.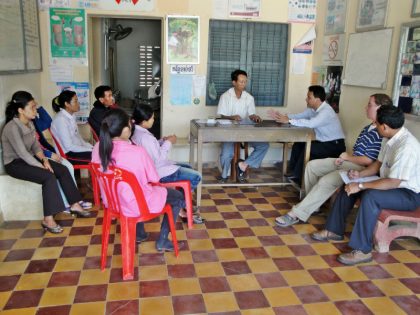 Peace Corps Volunteer Directing Project
Justin Brumer
Comments
This project will provide running water and sinks for the staff to use to wash their hands before and after treating patients, and for community members to utilize to wash their hands after using the bathroom. It will also serve as a teaching tool for hygienic practices.
Justin previously completed the Sung Pra Sat Primary School Bathroom Project – Cambodia.
Dollar Amount of Project
$285.00
Donations Collected to Date
$285.00
Dollar Amount Needed
$0.00 – This project has now been fully funded through the generosity of The Soneva SLOW LIFE Trust as a part of their Clean Water Projects initiative.
We encourage others to continue to donate using the Donate button below, and we will notify Justin of your donation. Additional funds will be used to fund the next project by the PCV and/or other projects in the country of service.
This project has been finished. To read about the conclusion of the project, CLICK HERE.