Peduase School Bathroom Project – Ghana
This project is made possible through the partnership of WATER CHARITY and the NATIONAL PEACE CORPS ASSOCIATION.
This project has been completed.  To read about the conclusion, CLICK HERE.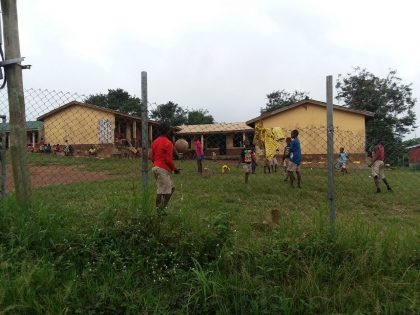 Location
Peduase, Eastern Region, Ghana
Community Description
Peduase, with a population of 4,000, is located in the mountains of Akuapem in the Eastern Region of Ghana. It is well-known as the location of the presidential holiday resort and is rapidly developing because of its high elevation and cool and foggy environment. Other tourist attractions of the area include the country's main botanical gardens and the Odwura festival.
Peduase is about a 25-minute drive from the capital city Accra. It shares main boundaries with bigger towns such as Ayimensah, Akropong, and Nsawam. There is a main road through the town that connects larger cities like Accra, Koforidua, Nsawam, Suhum, and Kumasi.
People living in the area engage in an occupation like farming, trading and some government employment.
The farmers grow crops like palm, cassava, plantain, yam, pineapple, oranges, corn, and vegetables. Farmers mostly grow their crops to sell them in the city of Accra during market days. A few young men work at breaking stones and flat rocks to be used for construction.
Some of the foods eaten by the people are fufu, ampese, banku, fante and Ga kenkey, oto and rice.
The people speak Akuapem twi as the main language and sub-languages such as Ga, Ewe, Hausa, Larteh, and English.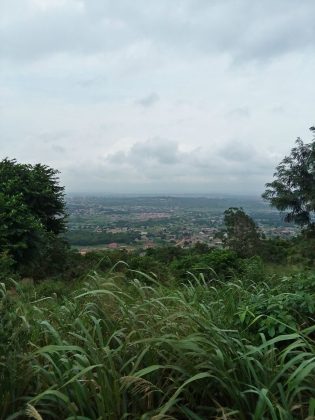 The main religions are Christianity and Islam.
The community has several kindergartens and elementary educational facilities but has no high school or tertiary education. Students who pass examinations and wish to continue their education must go to other towns or cities with the necessary education facilities.
Problem Addressed
Peduase elementary school was established in the year 2009 to provide quality education for the children in the area.
About 40% of the children in the school are on scholarship, since they are from a very poor backgrounds, and their parents cannot afford the tuition.
Because the school does not make sufficient money as a private social responsibility center, there remains a need for many essential facilities, such as toilet and washroom facilities.
The only accessible toilet facility is about a 5-minute walk to a community resource. Students and teachers are often seen using the same toilet and washroom facility, often with a waiting line. Small children below the age of 4 use a temporary hole on a small space on the school compound
Project Description
This project is to build a four-unit toilet facility for the school. Two units will serve male and female students, and two units will serve male and female staff.
The construction will be comprised of:
– Pit construction measuring 10 feet long by 5 feet wide, with a depth of 15 feet, covered by concrete.
– Block walls measuring 12 feet by 4 feet, 7 feet high, divided into four different units. Wall finishing will be plastering and painting.
– Wooden and zinc roofing
– Wooden door installation
– Toilet seat installation
– Ventilation provision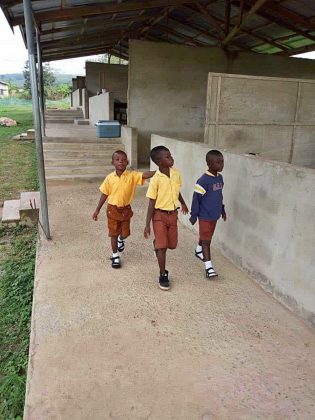 – Handwashing facilities
Project Impact
300 school children and 12 staff will benefit from the project.
Project Administration
The project will be implemented under the direction of Nana Kudjoe Kesse, Executive Director and Chief Operations Officer of H2O Africa Care. Nana previously completed five borehole projects with Water Charity. http://www.h20africacare.com/
We are grateful to Solomon Amuzu, of Call to Nature Permaculture, who is providing additional assistance and oversight.
Monitoring and Maintenance
Once the project is completed it will be handed over to the school authority to take full control over it.
The caretaker of the school, together with the older children, will clean the facility when needed, and when classes are not in session.
The H2O Africa team will visit the school monthly to ensure it is being properly run and cared for.
Project Funding
This project has been funded by an anonymous donor. Please donate using the following button, and your contribution will be used for the next project in Ghana.