Nessa Water Project – Malawi
Location
Nessa Village, Mulanje, Southern Region, Malawi
Community Description
Nessa is a highly populated community located on the southern side of Mount Mulanje. The village currently has 783 households and a total population of 3,136 people.
Economically, the village consists of low-income farmers who grow cash crops such as tea and pineapple to sell, so that they can afford staple crops, like maize, a dominant part of the local diet.
Nessa has one junior primary school which hosts kids from the village as well as children from neighboring villages.
Nessa is a unique community in the sense that it is situated on Mt. Mulanje and that it borders a perennial river. Unlike most communities that rely on boreholes or shallow wells for water, Nessa has a gravity-fed pipe system diverting water from the river that allows its members to install water taps for easy access to clean potable water. The current system, however, only runs through the village's main path, making it difficult for villagers who live near the boundary to access that system.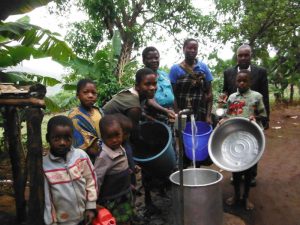 Problem Addressed
There are two sections of the village without easy access to water. People in those areas have to travel long distances through tough rocky terrain carrying 20-liter buckets of water on their heads just to reach clean water.
Aside from access to water, this situation has also given rise to three issues: (1) The difficult terrain has caused several injuries to villagers who have fallen on the rocky path, (2) social tensions exist between the villagers who have water taps and those who do not, and (3) the parts of the village that do not have access to taps are left at an unfair economic disadvantage.
Nessa consists of low-income farmers, and those who live by taps are able to grow food around their homes all year around, while those far from the taps cannot.
Project Description
This project will provide one of the sections of the village that is currently without water with taps that are easily accessible.
Villagers will dig a trench that is 1,000 meters long and two feet deep for the new pipe. Skilled plumbers will then assist in cutting into the main line and installing a fitting that will allow water to flow to the newly installed pipe.
Plumbers will also install 4 taps that will be strategically placed along the new pipe in order to minimize the distance that villagers need to travel to access water.
The village will provide the labor needed for digging the trench and cover the costs of the plumbers.
Water Charity funds will cover the costs of 142 polyurethane pipes, 4 taps, the appropriate fittings to divert water from the main line, and the transportation needed to move all of the materials from Blantyre into the village.
Project Impact
1,200 people will benefit from the project.
Peace Corps Volunteer Directing Project
Lucas Elenitsky
Comments
This project will provide a reliable and accessible supply of water to a currently unserved area, to be available for drinking and irrigation of crops. This will not only improve the health and wellbeing of the villagers, but will also lead to greater food yields for consumption, and additional economic opportunities.
Dollar Amount of Project
$500.00
Donations Collected to Date
$500.00 + additional funds
Dollar Amount Needed
$0.00 – This project has been fully funded through the generosity of Adam Boesenberg of Ankeny, IA, USA. Additional funds for future projects have been donated by other friends and family of Peace Corps Volunteer Lucas Elenitsky.
We encourage others to continue to donate using the Donate button below, and we will notify Lucas of your donation. Additional funds will be used to fund the next project by Lucas and/or those of other PCVs in the country of service.

This project has been finished. To read about the conclusion of the project, CLICK HERE.