Natural Mystic Rainwater Catchment Project – Jamaica
Rainwater Catchment Culvert & Water Tank for the Village Of Bob Marley's Birth in the Mountains Of Jamaica!
This project is made possible through the partnership of WATER CHARITY and the NATIONAL PEACE CORPS ASSOCIATION and is being implemented by Sol Adventurers Foundation.
Location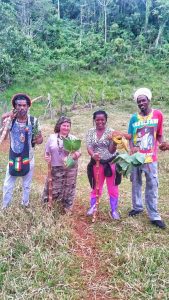 Natural Mystic Organic Farm & Grass Roots Healing Center
Nine Mile, St Ann's Parish, Jamaica, West Indies
Community Description
The community of 9 Mile is best known as the birthplace of Bob Marley, and is also home to the Mausoleum where he is entombed. It is one of the few places in Jamaica, where the village mentality still lives and thrives. Nine miles is up in the hills of the Dry Harbor Mountains (in St. Ann's Parish, Jamaica), where no rivers or springs flow. The bedrock is made of limestone, so when rain hits, all the water runs straight down to Ocho Rios (a large town on the coast), unless you have the means to catch it. A rainwater catchment is the only way to access water in this region.
Problem Addressed
Due to the lack of rivers or streams in the Dry Harbour Region, and the limestone bedrock causing the rainwater to run straight down to Ocho Rios, water is definitely an issue in this region. There is a shortage of water in the area, especially when dealing with farming.
Project Description
This project is to build a large rainwater catchment system to supply the farm, healing center, visitors and volunteers with fresh, clean water. A 16 x 16 cement tank will be built to hold the water and a concrete runoff area for the rainwater to run down the hill into the tank. The filtered catchment will be placed on the organic farm for use as a source for watering the crops, and by the healing center as well.
The materials for the project are listed below. The supplies include concrete blocks, sand, steel beams, cement, wire, plywood, and 1 x 3 boards.
600 8 inch blocks
10 yrd Rough sand
1/2 ton steel
5 yrd grit/gravel
80 bag cement
50 lb 1/4 wire
10 lb binding wire
4 yrd granite sand
3 lb concrete nail
10 length of laut
Community Organization
The Natural Mystic Organic Farm and Grass Roots Healing Center will be working hand in hand with Sol Adventurers Foundation, a 501 (c)(3) based in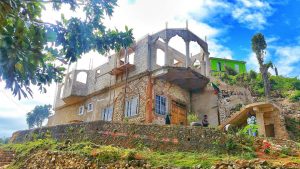 California working to empower youth globally to discover their gifts and share them with the world.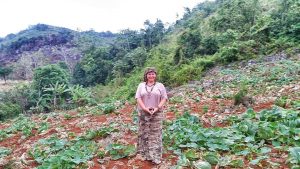 Sol Adventurers is run by Roseanne Ware, who has worked with Water Charity on a number of projects and has been of great help to the organization for a couple of years.
Roxanne Little is the owner of the Natural Mystic Organic Farm and Grass Roots Healing Center. She is certified in iridology, sclerology, ultrasound physics, cardiovascular and pediatric emergency ultrasound and is the CEO of Loving Care, LLC. She has been providing much-needed health screenings and medicinal herbs free of charge to neighbors, friends, and family throughout Jamaica.
With a stroke of good fortune, she was able to acquire the same land where she lived and grew with her father as a small child. She has been developing this farm and retreat center over the last 12 years with her sons. In addition to the farm and healing center, the property provides community resources for the area i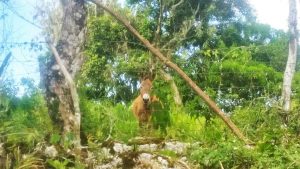 ncluding drum & fire pit, hiking trails, bird sanctuary, camping areas, and monthly healing circles.
Roxanne and the community are covering labor, delivery and filter costs. All other costs have been covered by Water Charity.
Project Impact
This project will directly impact approximately 2,700 individuals, and many others indirectly, who will have access to the produce grown with the water.
Volunteer Directing Project
Roseanne Ware
Monitoring and Maintenance
A committee will be established to ensure that the rainwater catchment is monitored and maintained on a monthly basis, and collect funds to be used towards maintenance.
Comments
The farm is strictly organic, which is few and far between in Jamaica, where most farmers have the belief that you have to spray (pesticides). There is a real movement in Jamaica to have access to Organic produce. You can find some people within the Rastafari community that believes in growing their crops naturally with no pesticides or insecticides, but for the average Jamaican this is hard to find and many don't even know it exists. Even in Kingston, there is only one farmer's market on Saturdays where organic produce is available. In Coronation Market, the biggest farmers' market in Kingston, organic produce is nonexistent.
Roseanne Ware has previously done the One Love Children's Home Water Project in another area of Jamaica.
This project has been funded through the generosity of the Paul Bechtner Foundation.