MATI Water Tank Project – Tanzania
Location
Mlingano Village, Muheza District, Tanga Region, Tanzania
Community Description
Tanga is the most northern and eastern region of Tanzania. Mlingano Village is located about 20 km east of Muheza town and about 40 km west of Tanga town, about 2 km north of the main road going between Muheza and Tanga.
The project will be done at MATI (Ministry of Agriculture and Training Institute). The project community consists of perhaps 1,000 people, most of whom are MATI employees (or family members) as well as college-age students. There are also those who make an income strictly off of farming in the area, unrelated to the research and training at MATI. Sisal (Mkonge) is the main crop grown in the community.
The income for the community is probably slightly higher than average, due to MATI. However, there are many signs of low financial stability, such as a lack of purchasing power for items more than the basic necessities.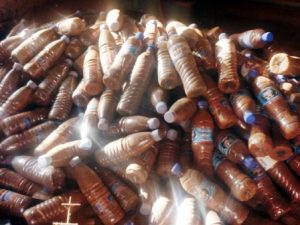 There is a water line running between Muheza and Tanga, but this line is unreliable and breaks down, sometimes for up to a month at a time. Therefore, water has to be shipped in from the village (small town) of Pongwe, about 25 kilometers away. This has inflated water prices by as much as 1,000%. During periods of scarcity, a full day's salary can sometimes go to nothing more than water.
The village has expressed a strong interest in building (and in many cases, already has) rainwater catchment systems.
Project Description
This project is to build a 1,200-liter tank at MATI.
The tank will be built out of recycled water bottles. The idea and instructions came from the website of ECOTEC Environmental Solutions.
The community has already gathered the rocks needed for the foundation and has made the 1,000 "plastic water bottle bricks" that the tank will be constructed out of. Two engineers, three construction workers, and 41 college students will take part in the building of this non-conventional water catchment system.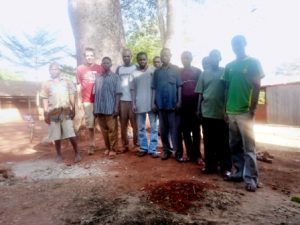 Good Earth Tanzania, an NGO that has 30 years of experience with building rainwater catchment systems in Tanzania, is providing technical assistance.
This technology, with the tank and gutter system combined, is expected to be less expensive than conventional systems. In addition, it will reduce pollution, as the use of plastic bottles will reduce the number of bottles that would otherwise be burned.
Water Charity funds will be used to purchase the materials, including cement, waterproof cement, river sand, sisal, nails, wood, the spigot, and the gutter system.
Project Impact
The entire community of 1,000 people will have access to the water. However, it is expected that it will mainly be used by about 100 students at the dormitory, which is just a short walk from the location where the tank will be built.
In addition, 46 community members, consisting of 41 students, 2 engineers, and 3 construction workers, will gain technical experience in building this type of system.
Peace Corps Volunteer Directing Project
Jeffrey Deppa
Comments
This is an important project for MATI and the community at large, as it addresses a critical water need. As a model project, it will demonstrate the technology to others and can be expected to lead to future projects in the area.
Dollar Amount of Project
$225
Donations Collected to Date
$225
Dollar Amount Needed
$0 – This project has been funded through the generosity of Elizabeth Szabo, of Pembroke, VA, USA.
Any additional donations will go to future projects in Tanzania.

This project has been finished. To read about the conclusion of the project, CLICK HERE.