Mathako Borehole Repair Project – Malawi
Location
Mathako village, Kasinje catchment area, Ntcheu district, Central region, Malawi
Community Description
Mathako village is a rural village in Kasinje with 92 households.
The villagers are forced to drink water out of a protected well that is barely functioning.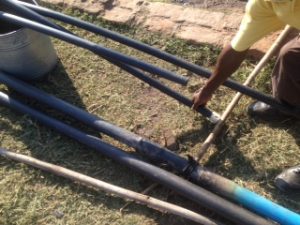 Problem Addressed
Because the well was poorly maintained the water is coming out at a very slow pace making the queue to draw water very long. The community fears that without maintenance the borehole will quit functioning altogether.
The particular pump is no longer being produced, and parts are difficult to procure.
Project Description
This project is to repair the borehole in Mathako.
The seal will be replaced to produce the suction necessary to provide an adequate amount of water. The 4 rods will be replaced. Also, a foot valve and three pipes will be replaced.
The community has already purchased the only two rods found locally. The remaining parts will be obtained from the only supplier left in Malawi.
Water Charity funds will be used to purchase the parts, and pay labor costs as needed.
Project Impact
410 people in 92 households will benefit from the project.
Peace Corps Volunteer Directing Project
Kristi Mathis
Comments
Simple repair and upkeep projects are vital for many communities, including this one. The replacement of the old borehole parts will ensure that the community will have access to safe drinking water throughout the year, and especially during the dry season.
Kristi previously completed the Kasinje Borehole Repair Project – Malawi, the Chakuli Borehole Repair Project – Malawi, the Hamba Hamba Borehole Project – Malawi, and the Tunga Borehole Repair Project – Malawi.
Dollar Amount of Project
$126.00
Donations Collected to Date
$126.00 + additional amounts
Dollar Amount Needed
$0.00 – This project has been fully funded through the generosity of the Ricky Olson, of Deer Park, WI, USA with additional amounts for future projects from Michael and Carla Boyle, of Nelsonville, OH, USA.
We encourage others to continue to donate using the Donate button below, and we will notify Peace Corps Volunteer Kristi Mathis of your donation. Additional funds will be used to fund the next project by Kristi and/or those of other PCVs in the country of service.

This project has been finished. To read about the conclusion of the project, CLICK HERE.