Magalela Community School Borehole Project – Zambia
This project is made possible through the partnership of WATER CHARITY and the NATIONAL PEACE CORPS ASSOCIATION.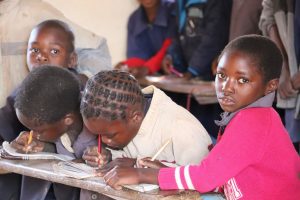 This project has been completed. To read about the conclusion, CLICK HERE.
Location
Magalela Village, Kazungula, Zambia
Community Description
Magalela Village lies west of Zimba with a population of approximately 1,670 people. The main economic activity is crop production and animal husbandry. The community has over 900 cattle, 600 goats, and 20 donkeys.
Magalela is surrounded by six villages with a total population of approximately 8,400 people. It is served by the Sianankanga River and its tributaries. These sources of water dry up in the dry season, which forces the villagers to take their livestock daily on a 16-kilometer round trip to the nearest dam in Kalamba.
The community has two boreholes that are used for household use, such as laundry, bathing, cooking, and general cleaning.
The closest primary school is located 9 kilometers away in Munkolo. Magalela Community School was established in 2015 with the help of Camillia Freeland-Taylor, a former Peace Corps volunteer who previously served in the area. Today, it serves 116 students in kindergarten through third grade with two government and two community teachers, respectively. The school contains two classrooms, a library that functions as a third classroom, a three-bedroom teacher's house, three teacher offices, four VIP pit latrines, and a football pitch.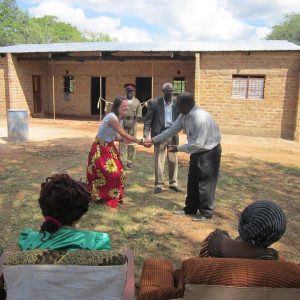 Problem Addressed
The most pressing issue for the community is the lack of water in the area. The northern region of Zambia receives an annual rainfall of 1,250mm (50 inches) or more which gradually decreases southward towards Lusaka where it is about 750mm (30 inches). However, the southern region (where Magalela is located) receives between 500-750 mm (20-30 inches).
There is no electricity or running water in this community, which has become a challenge for Magalela. While the school does have toilets and a hand washing station for the children to use (which is fed by a bucket of water), the water source for this school is still kilometers away. This requires for one of the students' mothers to fetch water using a 20-gallon bucket of water for the hand washing station.
Additionally, the children are forced to bring any water they wish to use for drinking or washing to school. The headteacher who lives on the grounds also must travel to get his or her water for cooking, drinking, and cleaning.
As the community school grows, access to safe drinking water, sanitation, hygiene, and water management will become more of an issue. After all, water is life.
Project Description
This project is to construct a borehole with a hand pump on the school grounds.
The borehole will have a depth of 70 meters.
The equipment will be transported from Choma, which is 120 kilometers away. The Department of Water Resources Development will provide equipment and professional expertise.
The community will provide all bricks, river sand, and pit sand needed for the project. Darius Mapanda, a local area mechanic, will closely follow site construction. He will also perform borehole maintenance after the handpump has been installed.
Project Impact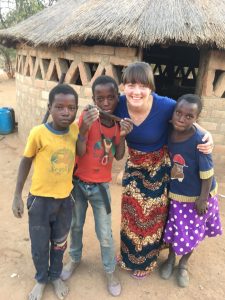 1,670 people will benefit from the project.
Peace Corps Volunteer Directing Project
Camillia Freeland-Taylor, RPCV Zambia ('13-'15)
Monitoring and Maintenance
It is imperative for the village to take ownership over their water source and receive community-based technical training for it to facilitate sustainable development. Thus, Ms. Taylor will provide a physical training manual for the area mechanics and provide training sessions to help address any future issues that may arise. The community will also be trained on proper upkeep of the surrounding area and how to deal with potential issues such as livestock, conflict management, and water source sanitation. This will ensure ongoing maintenance to the water point and service delivery that are keys to achieving the future success of Magalela Community School as a whole.
Comments
Lack of safe water and sanitation in schools affects children's learning. By providing a secure sustainable water source, Magalela Community school will become equipped to provide education so the children will be able to spend more time learning rather than dealing with stomach pains and diarrhea.
Project Funding
Funds for this project have been provided by an anonymous donor. If you like this project, please Donate below, and we will notify Camillia. The funds will be used for our next project.