Liko Kostandini School Bathroom and Water Project – Albania
This project is made possible through the partnership of Water Charity and the National Peace Corps Association.


This is a project under the LET GIRLS LEARN Program, a collaboration of First Lady Michelle Obama and the Peace Corps to expand access to education for adolescent girls around the world!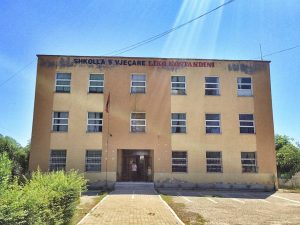 Location
Liko Kostandini school, Daullasi, Fier, Albania
Community Description
Liko Kostandini is a 9-vjecare (primary and intermediate grades 1-9) school, with toilets in very poor condition. It is in the village of Daullasi on the outskirts of Fier, and has 180 students and 12 teachers/staff.
Problem Addressed
The school has inadequate sanitation and a lack of running water. The toilets themselves need running water, and the basins need taps and piping. Also, the sewer pipes are blocked and broken and need replacing. Also, the floor is actually sinking in the toilet areas.
Project Description
This project is to replace the current toilets, refurbish the bathrooms, and bring running water to the school. The broken and blocked sewer pipes will be replaced, and damp proofing will be applied over the new concrete slab that will be built. The toilet doors are recoverable but need refinishing and new door frames, handles, and locks. All the toilets will be replaced with western-style toilets.
Project Impact
1,000 people will benefit from this project, as well as any guests and visitors to the school.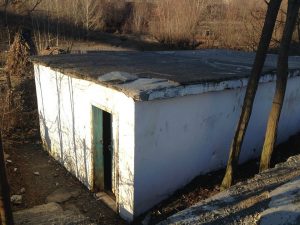 Peace Corps Volunteer Directing Project
Teresa Anderson
Monitoring and Maintenance
Bashkia (municipal government) is providing the labor. and some funds for new floors and walls. The parent and teacher community is helping with supplies and cleaning.
The school will maintain the bathrooms for themselves.
Comments
This project is part of the LET GIRLS LEARN program sponsored by FLOTUS Michelle Obama. It is intended to have a positive effect on keeping girls in school after they reach adolescence. Lack of clean facilities is a leading cause of women dropping out of school. Water Charity is proud to have sponsored the very first LGL project and continues to be a leading contributor to the program, as evidenced by projects like this one.
Teresa Anderson has already done a couple of projects with Water Charity already. You can read about her Jani Bocova School Bathroom and Water Project – Albania and the Kopsht #3 Kindergarten Toilet & Water Project – Albania by clicking these hyperlinks.
Dollar Amount of Project
$1,550
Donations Collected to Date
$1,550
Dollar Amount Needed
$0 – This project has been paid for through the generosity of the Canterbury Girls' Secondary College, Canterbury, Victoria, Australia.
This project has been completed. To see the results, CLICK HERE.