Lelouma Prefecture Well Project – Guinea
This project is made possible through the partnership of WATER CHARITY and the NATIONAL PEACE CORPS ASSOCIATION.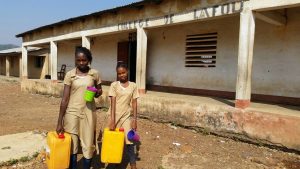 Location
This project summary has been redacted for security reasons to omit the specific project location.
Xxxxx Sous-Prefecture, Lelouma Prefecture, Labe Region, Guinea
Community Description
Xxxxx is a mid-sized town with a population of about 20,000 in the mountainous Fouta Djallon region of Guinea. There is lots of activity in the community, as it houses the mayor as well as the sous-prefect.
There are over 20 primary schools. There is one secondary school that serves the entire community. The weekly market on Thursdays is filled with all types of vegetables, meat, and other treats. There are many small boutiques that sell basics as well as charge telephones.
There are many women's groups that spend their days gardening and creating small savings accounts. There are also many groups working with beehives to collect honey in the forest.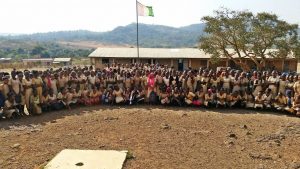 Problem Addressed
There is a lack of a safe and healthy environment at secondary school. Every day, female students are responsible for arriving early or missing class to pull water from a neighboring well to use in handwashing stations and for drinking. Most students walk at least an hour to attend school, as it is the only secondary school in the sous-prefecture.
The lack of potable water and the task of retrieving water for the school are deterrents for attending school, especially after the first year. While there are more female than male students, the dropout rate for female students is much higher than for male students. The female students also miss school during their menstrual cycles because they are embarrassed to use more water to wash because others will know.
Project Description
This project is to construct a hand-dug well on the school grounds.
A local Well digger will hand dig and line the well. A concrete cap and a pulley system will then be installed.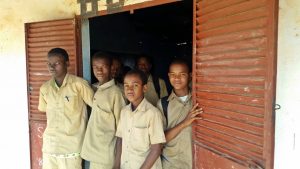 The community has provided its contribution in the form of sand, gravel, and cement, which have already been purchased and delivered. They will also provide transport for all local materials.
All governmental officials in the sous-prefecture, as well as school officials and the parent's association, are working to develop this project. Many students have been involved in the planning process and will continue to work after construction, on activities such as hand washing sessions and creating a school garden to raise money for a library.
Project Impact
365 students will benefit from the project
Peace Corps Volunteer Directing Project
K. Kayser
Monitoring and Maintenance
A committee of community members will be responsible for ensuring the quick and correct construction of the well. They will also be responsible for utilizing school funds to complete any repairs necessary in the future.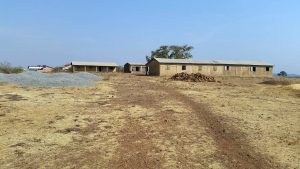 The PCV will work with the biology teacher to teach two students from each class how to treat them well with bleach every month to ensure that it stays clean. Hand-washing sessions will be conducted every Saturday after classes.
A local women's group will provide the seeds and equipment for a school garden and will teach the students how to earn income from gardening.
Let Girls Learn
This project is part of the Let Girls Learn program started by the White House, in partnership with the Peace Corps. The goal is to keep girls attending school. It is a part of Water Charity's Let Girls Learn Initiative – Worldwide.
This project is designed to eliminate one of the many barriers to girls' school attendance. As the girls are usually the students required to come early or leave class to retrieve water, this well will allow them to spend more time in class. They will also have more water accessible for drinking, hygiene, and sanitation.
This project has been funded by an anonymous donor.
This project has been completed. To read about the conclusion, CLICK HERE.