Kwanfinfin Borehole Project – Ghana
This project is made possible through the partnership of WATER CHARITY and the NATIONAL PEACE CORPS ASSOCIATION.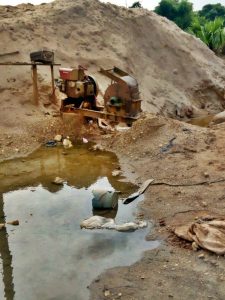 This project has been completed. To read about the conclusion, CLICK HERE.
Location
Kwanfinfin, Brong Ahafo Region, Ghana
Community Description
Kwanfinfin is a large village, with a population of about 1,780 people. The main source of income is from agriculture and trading. In addition, young men and women serve as laborers at various mining sites.
The Brong Ahafo Region is located in south Ghana. Brong Ahafo is bordered to the north by the Black Volta River and to the east by the Lake Volta, and to the south by the Ashanti region, Eastern and Western regions, and to the west by the Ivory Coast southeastern border. Some of the languages spoken by the people are Twi, English, Ewe, Bono, and Hausa.
Because this location is a center of mining activity, it has associated problems, such as school dropout and teenage pregnancy. Due to economic hardships at home, a large number of children between 6 and 15 abandon their classrooms for gold mining, to either make a living or make a few Ghana cedis to support their parents.
The few children who are in school also work in illegal gold mining concessions after school to earn money to pay for their own education. They usually do not wear any protective gear and are exposed to all manner of bodily injury, especially to the eyes
Problem Addressed
The people of the village suffer from a lack of access to potable water. Their lands and water bodies have been largely destroyed as a result of illegal mining activities and the use of heavy chemicals on their land. Illegal mining in the area is plagued by several environmental and health problems.
Several accidents have occurred, and in some cases, people have died from water-related issues. In April 2015, at least 16 people lost their lives as a result of consuming polluted water. This community now needs to transport water from nearby towns, and pay unaffordable prices.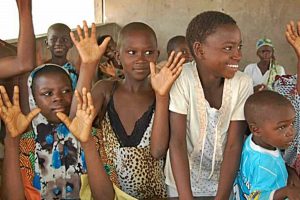 Another serious impact is the health hazards as a result of pollution from gases, noise, and dust. Coal mines release methane which can pollute the air. Sulphuric acid is utilized in the mining operations, which drains into the water bodies, and adversely affects them.
The movements of rock in the case of surface mining impacts the land negatively. Craters are left in the areas where mining activities took place, destroying the landscape and lush vegetation in the process.
Deforestation is resulting in changes in the ecosystem, which includes increasing the levels of carbon dioxide in the air.
The leakage of chemicals into the environment adversely affects the health of the local population.
Project Description
This project is to build a borehole to supply water for the people of Kwanfinfin in the Brong Ahafo Region.
The borehole will reach a depth of about 60 to 75 meters. Water will be accessed by a hand pump. Above-ground improvements will include a concrete area on which people will stand when drawing water, as well as a channel and soak pit for removal of excess runoff.
A contract will be awarded to a borehole construction firm with experience in the region.
Activities prior to implementation include cost analysis, reading and location selection, geologic and topographic consultation, and preparation of design sketches.
The community will contribute a monthly fee per home toward the maintenance and repairs of the facility as well as the unskilled labor needed for project implementation.
H2O Africa Care will provide management, supervision, accounting, monitoring, and reporting.
Project Impact
1,780 people will benefit from the project.
Project Administration
The project will be implemented under the direction of Nana Kudjoe Kesse, Executive Director and Chief Operations Officer of H2O Africa Care.
Nana previously completed the Ntobroso Borehole Project – Ghana.
Monitoring and Maintenance
The community will charge small monthly fees to take care of repairs and other related work when needed. A woman will be assigned to perform the management function for the smooth running of the facility.
H2O Africa Care will ensure sustainability after the improvements are completed.
This project has been paid for through the generosity of an anonymous donor. If you wish to support similar projects, please donate to our Western Africa Water & Sanitation Program.
Conclusion of Kwanfinfin Borehole Project – Ghana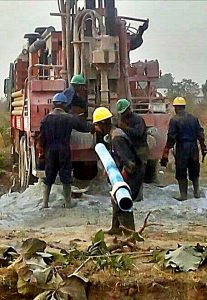 This project has been completed under the direction of Nana Kudjoe Kesse, Executive Director and Chief Operations Officer of H2O Africa Care. To read about the start of the project, CLICK HERE.
The project was designed to build a borehole to supply water for the people of Kwanfinfin in the Brong Ahafo Region.
Nana reports: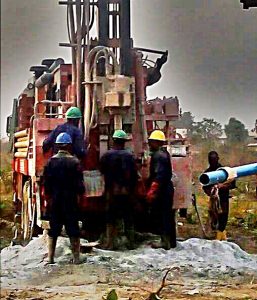 We are more than happy to announce our second project conclusion in the Brong and Ahafo region of Ghana.
This project was to provide pure accessible drinking water to the 1,780 people of Kwanfinfin, a major village facing water challenges due to illegal mining operations.
As is done typically in Ghanaian communities, a libation was poured to ask for permission from forefathers for protection and guidance for the project to be commenced on the 7th day of August 2017.
Representatives of LEE YOUNG Drilling, together with the H2O team and elders of Kwanfinfin, surveyed the area for a suitable location. With the aid of a groundwater detector, a suitable place was located.
The drilling company then started the construction process, and in about 35 hours, they hit the water table at 70 meters. The top of the borehole was then cemented and a hand pump was installed, creating a fully-functioning water system.
The community will later come together upon an agreement to contribute funds towards the construction of storage filtering concrete tanks to improve upon the facility.
Upon conclusion, final prayers were said, to thank and to appreciate the work of Water Charity, H2O and everyone who made this project possible. A great delicious lunch was then prepared by the community that served both the H2O team and LEE YOUNG Drilling team, as well as the village elders.
After lunch, we all came together again with comments on the need for clean water and a hygienic environment in Ghana and Africa. After about an hour of conversations, we came to realize that this has broadened peoples' minds.
Below are some happy comments raised by the villager upon having access to clean water:
" We thank Water Charity and H2O for this great water provision." by Kwame Boabeng
" We thank God for this." by Alhaji Mumuni
" We have no way to go through much purification process just to drink water (smiled )."
Wonderful advice was by given Agya Kwaku to warn everyone "not to wash clothes at the facility."
" I will ask daddy to buy me a water bottle so I can fill it up here for school." 5-year-old Benard Kusi
Together they said "ooh Water Charity and H2O, this community can't thank you enough for this wonderful water facility"
We extend our thanks to Nana for completing this important project.