Krivoy Rog Tuberculosis Hospital #2 Water Filter Project – Ukraine
Location
Krivoy Rog, Dnipropetrovska Oblast, Ukraine
Community Description
The project community is a large industrial city of 700,000. Krivoy Rog has one of the highest rates within Ukraine of new HIV infections each year. Many of these infected people include youth who have been born with HIV.
The Krivoy Rog Tuberculosis Hospital #2 serves about 65 people, including 35-40 children currently residing at the hospital as well as nursing staff, doctors, teachers and parents who visit. Children remain for as long as 2 years.
The children at the hospital are living with tuberculosis, and have weak immune systems, making them susceptible to the effects of water that is contaminated.
The current water supply is from the municipal water system. Although the supply is usually regular, in the summer there are frequently mid-day outages.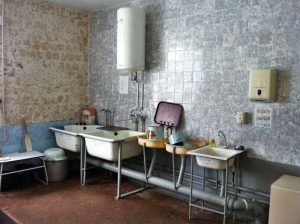 The water source is a local river that remains very polluted because of all of the industrial waste that is dumped therein, and includes high levels of chlorides.
Project Description
This project is to install a reverse osmosis water purification system at the hospital.
The system is called MO 50-5. It has 3 stages, and is designed to remove 99% of the dissolved salts (ions), particles, colloids, organics, bacteria and pyrogens from the feed water. The water is re-mineralized in the process.
The project will run in conjunction with another project to build a special physical exercise room for the children.
Local organization Chance and Peace Corps Volunteers will be working together to ensure the completion of all the project phases.
A local technician will install the filter in the kitchen area of the children's center.
The hospital will be responsible for monitoring the system and replacing the filters every 6 months, or as necessary, throughout the life of the system.
Project Impact
65 people will benefit from the project.
Peace Corps Volunteer Directing Project
Rebecca Sheffel
Comments
Clean water is a vital component in the health and wellbeing of residents, staff, and visitors at the hospital. This is a purification technique that is proven to be effective, widely used in the area, and modestly priced for the benefits achieved.
Dollar Amount of Project
$555.00
Donations Collected to Date
$0.00
ADOPT THIS PROJECT BY CONTRIBUTING THE DOLLAR AMOUNT NEEDED BELOW
Donations of any amount will be appreciated. The full amount will give you "naming rights", if that is something you would like.
Any contributions in excess of the Dollar Amount of the Project will be allocated to other projects directed by this PCV and/or projects of other PCVs in this country.
Dollar Amount Needed
$555.00

This project has been finished. To read about the conclusion of the project, CLICK HERE.