Kolda Master Farm Water and Sanitation Project – Senegal
This project is made possible through the partnership of WATER CHARITY and the NATIONAL PEACE CORPS ASSOCIATION.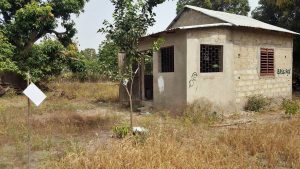 Location
This project summary has been redacted for security reasons to omit the specific project location.
Kolda, Kolda Region, Senegal
Community Description
The region of Kolda is Senegal's poorest and among the most malnourished. This project will be done in a neighborhood called Xxxxxxx in the capital city of the Kolda Region, Kolda. It will be done at a demonstration space run by a "Master Farmer" named Cherif Diallo. A Master Farmer is an individual identified by the Peace Corps who shows exemplary farming and teaching skills who uses their garden space for training and demonstrations.
This demonstration space is a place where innovative and sustainable agricultural practices are displayed and taught. During its 2-year life span, the Kolda Master Farm has had demonstrations and training on attaining higher yield on field crops without the use of chemicals, cold season gardening, live fences, and tree grafting. Cherif's demonstration space has a very wide audience, as it is in the capital city of the region and is very close to the city center, only about 1 kilometer outside of the main market.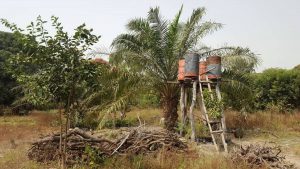 Every person who is trained, tours, or visits the Master Farm will benefit. Annually, the Master Farm has around 250 visitors, who will benefit from the improved capability, innovation, and convenience.
Problem Addressed
The main well at this demonstration space caved in in July 2016, due to heavy rains. This is the main source of water for the farm during the dry season. Until the well is re-dug, no gardening or advancement can be made at the garden, and no training or demonstrations can be held.
Since this farm is primarily a demonstration space, there are many visitors for the various training, tours, and demonstrations. In order to ensure sanitary visits while supporting a large number of people, a proper toilet is needed within the farm.
Project Description
This project is to build a well and a latrine at the Master Farm.
A 10-meter-deep well will be constructed about 10 meters North of the prior well location. A specialist will be hired to dig, as the soil is extremely sandy. When water is reached a reinforcement buttress of cement will be installed.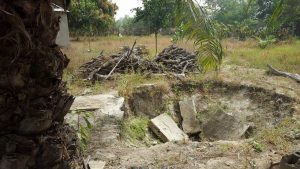 Master Farmer Cherif Diallo and a hired mason will construct the reinforcement out of rebar, fencing, and cement. After the well has been sufficiently reinforced, an above-ground structure will be built for ease of access to the well. It will consist of approximately 150 bricks, made by a locally-hired mason.
A latrine will be constructed in the Eastern corner of the farm. The pit will be dug to a depth of 2 meters. A specialist will be hired to dig, as the soil is extremely sandy. When a depth of 2 meters is achieved, the walls of the pit will be reinforced by bricks and rebar. Approximately 30 bricks will be used.
A brick structure, 1 meter by 2 meters in size, will then be built by the mason using about 300 bricks. It will contain a concrete platform and a Turkish toilet seat and will be topped by a zinc sheet roof.
Project Impact
100 people will benefit from the project.
Peace Corps Volunteer Directing Project
H. Henriksen
Monitoring and Maintenance
The Master Farm keeps records of how many people visit, tour, or attend a training at the farm. This attendance shows the number of people who will benefit from the installation of these features. Additionally, the master farmer keeps a record of all the produce, trees, and products he grows at the farm.
Master Farmer has been farming for nearly 40 years and is a very skilled mason. He will perform all repairs.
Comments
Improved farming techniques taught at the Master Farm will increase crop yields, leading to improved food security, enhanced nutrition and health, and increased economic opportunities.
Fundraising Target
$1,900
Funds raised in excess of the project amount will be allocated to other projects in the country.
Donations Collected to Date
$0
ADOPT THIS PROJECT BY CONTRIBUTING THE DOLLAR AMOUNT OF THE PROJECT
Donations of any amount will be appreciated. The full amount will give you "naming rights", if that is something you would like.
Dollar Amount Needed
$1,900