Kamagambo Day Mixed Compound Rainwater Catchment Project – Kenya
Location
Kamagambo, Rongo District, Migori County, Nyanza Region, Kenya
Community Description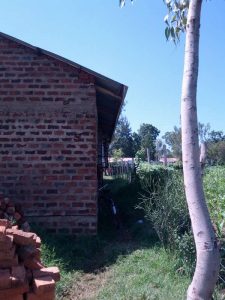 Kamagambo is a rural community several kilometers north of Rongo in close proximity to Lake Victoria. The population of area is around 19,000 people.
Kamagambo is a very rural farming community that is on the edge of "Luo Land." Luos take the education of the children very seriously because education is seen as a success in their community.
The Kamagambo Day School compound holds a pre-unit, primary, and secondary school. The student body on the entire compound is about 500 students.
Problem Addressed
The compound requires water to supply the kitchen, the farm, and the drinking and sanitation needs of the students and staff.
Although the school recently obtained a 5,000-liter water tank, it is not adequate for the needs of the school.
Project Description
This project is to build an additional rainwater catchment system for the school.
The system will consist of a 5,000-liter tank set on a platform, gutters along the roof, and piping to connect the gutters to the tank.
The platform construction will be a rounded cement foundation with bricks on the perimeter. It will be filled with ballast and hardcore. Once it is packed down and stable, it will be plastered over.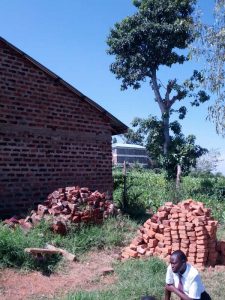 All the tank materials and gutter-related materials will be in purchased in Kisii and delivered to the school by a hired car/truck.
The gutter system will be made of PVC pipe cut in half. It will extend 115 feet, the entire length of the classrooms, along the edge of the roof.
The school will pay for all of the labor, as well as materials to build the foundation.
Water Charity funds will pay for the tank and tap, PVC pipe, and other materials.
The school will maintain the system after completion.
Classes will receive instruction on hygiene, handwashing, and maintenance of the system.
Project Impact
The project will directly benefit 550 people, including students and teachers/staff.
Peace Corps Volunteer Directing Project
Ben Switzer
Comments
This is an important project to serve the needs of those who spend their days at the compound.
Ben previously completed the Kamagambo Day Mixed Secondary School Rainwater Catchment Project – Kenya and the Kamagambo Day Mixed Secondary School Latrine Project – Kenya.
Dollar Amount of Project
$555.00
Donations Collected to Date
$0.00
ADOPT THIS PROJECT BY CONTRIBUTING THE DOLLAR AMOUNT OF THE PROJECT.
Donations of any amount will be appreciated. The full amount will give you "naming rights", if that is something you would like.
Any contributions in excess of the Dollar Amount of the Project will be allocated to other projects directed by this PCV and/or projects of other PCVs in this country.
Dollar Amount Needed
$555.00

This project has been finished. To read about the conclusion of the project, CLICK HERE.