Fund New Life School Bathroom Project – Georgia
Location
Telavi, Kakheti Region, Georgia
Community Description
Fund New Life School in Telavi, Georgia, is the only school for children with disabilities in eastern Georgia. Children from ages 2 to adult attend the school. It is an integrated school for all children, but about half have mental or physical disabilities of varying degrees. Some are in wheelchairs and only have limited use of their hands.
Music and drama are used as teaching tools enjoyed by all. The school is also a center for many types of programs for the community of Telavi, including those for holidays and memorials. Dance classes and music concerts are also given. Two water closets on the second floor of the school are leaking at the sewer flange and need to be resealed. In addition, the mating flange on each of the sewer lines will have to be replaced, which may necessitate that a portion of each sewer line will be replaced.
The water closet located on the rear second floor of the building shows evidence of leakage at the sewer connection and will also be required to be resealed.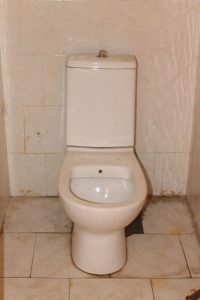 The leaking water closets have caused mold and mildew to be formed and the ceiling to fall in the main office on the first floor, making the office unusable, unsafe, and unsanitary. The floors stay wet, which can easily cause more accidents and disease.
Project Description
This project is to repair 2 bathrooms on the second floor of the school.
The work to be done is as follows:
Toilet tank flush replacement 2 pc.
Replacement of 2 water sinks
Replace water cut-off/tap Arko 5 pcs.
Replace main bowl pipe 1 pc.
Plastic pipeline for water in hall
Replacement of plastic tap/cut/off 20mm
Replacement of plastic tap/cut-off 25mm
Repair of heating boiler reservoir
Water Charity funds will be used to hire the plumber as well as purchase the materials needed for repairs. Materials include piping, fixtures, faucets, and valves.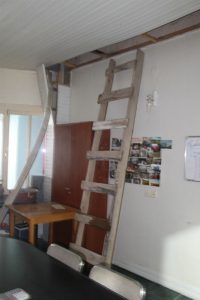 Fund New Life School will use 4 members of staff to help carry supplies and to help the plumber as needed.
Project Impact
300 people will benefit from the project.
Peace Corps Volunteer Directing Project
Carolyn Ayres
Comments
This is an important infrastructure project that will improve the health and well-being of students and staff.
Dollar Amount of Project
$555.00
Donations Collected to Date
$0.00
ADOPT THIS PROJECT BY CONTRIBUTING THE DOLLAR AMOUNT NEEDED BELOW
Donations of any amount will be appreciated. The full amount will give you "naming rights", if that is something you would like.
Any contributions in excess of the Dollar Amount of the Project will be allocated to other projects directed by this PCV and/or projects of other PCVs in this country.
Dollar Amount Needed
$555.00

This project has been finished. To read about the conclusion of the project, CLICK HERE.