Fodé Bayo Well Improvement Project – Senegal
Location
Fodé Bayo, Communite Rurale of Dialembere, Kolda District , Kolda Region, Senegal
Community Description
Fodé Bayo is a Mandinka village of approximately 200 people in the Communite Rurale of Dialembere in the Kolda Region of Senegal. It is fifteen kilometers north of the Dabo, a town of approximately 5,000 people on the Route Nationale.
The primary occupations in the community are farming and gardening. They are a well-organized and motivated community with clear development goals, including improved sanitation and more sustainable agricultural practices, which they established and have been working toward with Peace Corps Volunteers since 2007.
Problem Addressed
The main drinking water source is a pump at the local elementary school and there are three pumps in the gardens outside the village.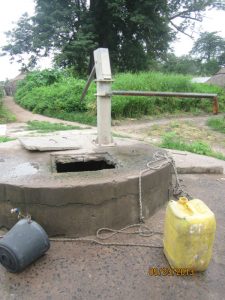 The main well in the center of village is the most frequently used for bath and cooking water. It has a non-functioning India pump which was installed by an unknown NGO approximately 10 years ago. Parts for this kind of pump are no longer available, so repairing the pump itself is not feasible.
Community members currently stand on the well and pull water from the small opening in the well cap, which is both unsanitary and dangerous.
Project Description
This project is to remove the broken pump from the central well in village and to create a new cement well cap with a metal pulley system to allow three people to pull water simultaneously.
Water Charity funds will cover labor costs for a pump technician, mason and metal worker, cement and iron for well cap construction, and transportation for the workers and materials from the regional capital, Kolda, to Dabo.
Workers have been identified who will contract to do the job in a timely and effective manner at a negotiated price.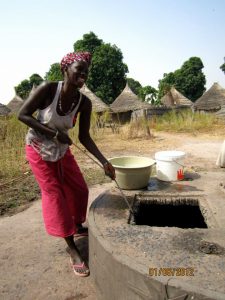 Community members will provide sand for brickmaking, transportation for workers and materials from Dabo to Fodé Bayo, and meals for the workers.
Project Impact
200 people will benefit from the project.
Peace Corps Volunteer Directing Project
Mary Cadwallender
Comments
This project provides a needed component for the water system of the community. It upgrades a poorly-functioning well into an adequate source for their water needs.
Dollar Amount of Project
$430.00
Donations Collected to Date
$430.00 + additional amounts
Dollar Amount Needed
$0.00 – This project has been fully funded through the generosity of friends and family of Peace Corps Volunteer Mary Cadwallender, with additional amounts for future projects.
We encourage others to continue to donate using the Donate button below, and we will notify Mary of your donation. Additional funds will be used to fund the next project by Mary and/or those of other PCVs in the country of service.

This project has been finished. To read about the conclusion of the project, CLICK HERE.