Escuela Adelante Water and Sanitation Project – Nicaragua
This project is made possible through the partnership of WATER CHARITY and the NATIONAL PEACE CORPS ASSOCIATION.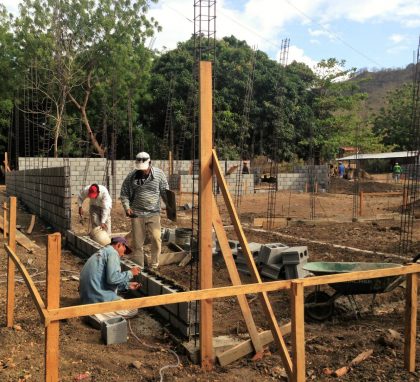 This project has been completed.  To read about the conclusion, CLICK HERE.
Location
San Juan del Sur, Rivas Department, Nicaragua
Community Description
In the rural areas surrounding San Juan del Sur, schooling options are scarce. Not one public secondary school exists between San Juan del Sur and Ostional, a 40-kilometer stretch, home to over a thousand youth.
Escuela Adelante will build San Juan del Sur's first full-time bilingual school for pre-K through high school. For many rural families, this will be the only viable option for educating their children.
Using a tiered model, based on income, families will pay between $0 and $100 a month. The tuition model has already proved successful over the past two years in the pilot bilingual preschool and kindergarten. These programs are fully self-sufficient, and students of more than 10 nationalities have integrated beautifully.
Escuela Adelante's student body reflects the demographics of the community – roughly 80 percent Nicaraguan (native Spanish-speakers) and 20 percent foreign (native English-speakers). The multi-cultural integration of the school creates an ideal environment for bilingual education and for cultivating community cohesion.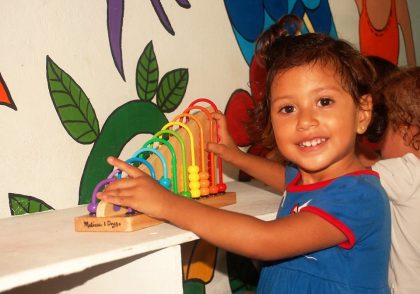 Problem Addressed
Since 2013, Escuela Adelante has grown from 12 to 238 students. An additional 150 students are on waitlists, turned away solely because of space constraints. The school currently occupies a small rented building in San Juan del Sur. Preschool is held in the mornings, elementary-aged ESL in the afternoons, and Adult ESL classes are held in the evenings and on Saturdays. Play and gardening activities are limited by space.
A new campus will serve more students. Reliable clean water will be an integral aspect, for sanitary bathrooms and drinking water, and also for irrigating vegetables in the learning gardens, and preparing meals for the students.
The school has acquired 3.5 acres of land just south of San Juan del Sur, in the Las Delicias neighborhood, where it will build its dynamic campus with adequate space and materials to provide 500 students a year with outstanding bilingual education. The campus will incorporate various outdoor playscapes, gardens, and nature trails.
In March 2018, Escuela Adelante began construction on the first 4-classroom building, which will eventually become their Preschool and Kindergarten building. They hope to finish construction in October and begin using the space in January 2019.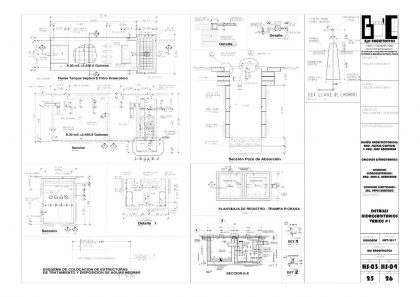 Project Description
This project is to build the water and sanitation systems for the school. This will include the plumbing system, a septic tank, two bathrooms with child-sized toilets, and classroom sinks.
The construction is conducted by Barberena Cespedes Arquitectos S.A., overseen by the RPCV and the School Director, Jaime Hunter.
Project Impact
500 people will benefit from the project.
Project Administration
The project will be managed by Jenny Boyd, RPCV Paraguay ('08-'10).
Monitoring and Maintenance
Escuela Adelante's enrollment records will demonstrate the number of students and staff that benefit from the project every year. The school has a maintenance employee who will oversee the proper use of the facilities and ensure prompt repairs when necessary. The school will cover the cost of maintenance and repairs.
Let Girls Learn
Escuela Adelante partners with Chica Brava, a local women's surf camp, to facilitate Chicas Adelante, a free female empowerment program for adolescent girls. Female mentors encourage girls in this extra-curricular program to challenge gender roles and set high educational and career goals. They learn about healthy relationships and self-esteem, family planning/pregnancy prevention, and leadership skills for strong and equal participation in civil society. Chicas Adelante will meet regularly at the new campus in addition to taking field trips to locations around San Juan del Sur.
Project Funding
This project has been funded through the generosity of the Paul Bechtner Foundation. Please Donate for our next project.