EORM Chonimabaj Cafeteria Water Supply and Storage Project – Guatemala
Location
Aldea Parraxchaj, San Bartolo Aguas Calientes, Totonicapán, Guatemala
Community Description
The Escuela Oficial Rural Mixta Chonimabaj is a small rural school located in a poor agricultural community in the department of Totonicapán,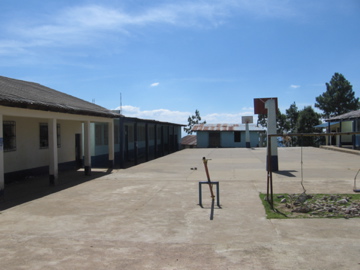 in the Guatemalan highlands. The community is majority Maya K'iche' and speak both the indigenous language and Spanish. The school has 6 teachers and about 250 students, boys and girls, from preschool to sixth grade.
The school has access to a water system that functions fairly regularly but at times fails and leaves the school without running water. The bathrooms, constructed by an NGO about 6 years ago, have a water tank to ensure the supply of water to the toilets and sinks.
Water is used in the kitchen to make school snacks (usually rice or oat drinks), wash dishes, and for drinking water for the classrooms.
There is no water storage capability for the kitchen. The teachers applied for help from the municipality of San Bartolo and bought a water tank last year. The parents then collected money among themselves to build a platform for the tank, but not enough was collected to complete it.
The municipality did not provide enough money to buy the tubes and faucets needed to connect the tank to the kitchen sink, and so the tank sits unused. When the school's water source fails there is not enough water in the kitchen for the mothers to make school snack or wash dishes.
Project Description
This project is to provide a working water storage and supply system to serve the cafeteria of the school.
The parents will provide the labor without charge to complete the platform and run the piping between the tank and the cafeteria to complete the system.
Water Charity funds will be used to purchase the materials needed to put the tank to use, including tubes, cement, sheet metal, faucets, handles, wood tablets, sand, gravel, and a float valve.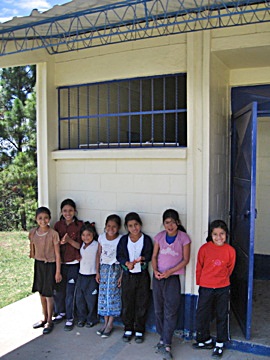 Project Impact
This project will benefit the 250 students and 6 teachers at the school. In addition, about 50 adults who attend regular community meetings and workshops at the school will benefit.
Peace Corps Volunteer Directing Project
Claire Mocha
Comments
This project provides for a regular supply of running water to the cafeteria for drinking, cooking, and sanitation. For a modest amount of money, previously unused components are made functional, to the great benefit of students, staff, and the community.
Dollar Amount of Project
$525.00
Donations Collected to Date
$525.00
Dollar Amount Needed
$0.00 – This project has now been fully funded through the generosity of friends and family of Peace Corps Volunteer Claire Mocha
We encourage others to continue to donate using the Donate button below, and we will notify Claire of your donation. Additional funds will be used to fund the next project by her and/or those of other PCVs in the country.
This project has been finished. To read about the conclusion of the project, CLICK HERE.