Deve District Sanitation and Water Supply Project – Benin
This project is made possible through the partnership of WATER CHARITY and the NATIONAL PEACE CORPS ASSOCIATION.

Location
Deve, Dogbo Commune, Couffo Department, Benin
Community Description
This project will take place in the district of Dévé, which is in the Dogbo commune located in the Couffo region of southern Benin. Dévé is situated just 15 kilometers from one of Benin's main interstates and is composed of seven different smaller villages: Agnanvo, Adidevo, Devehomey, Gbakehoue, Kpodji, Tchangba, and Zohoudji.
The district of Dévé, with a population of 12,627 inhabitants including 6,457 women and 6,170 men (INSAE, Benin statistic institution, 2013), is rich in natural resources such as gravel and cultivatable soil and is conveniently located near the Mono River which separates Benin and Togo.
Due to Dévé's location and abundance in natural resources, the primary economic activity is agriculture and its commercialization and processing. In addition to being one of Benin's largest producers of rice, Dévé also cultivates corn, cassava, pepper, and local greens throughout the year.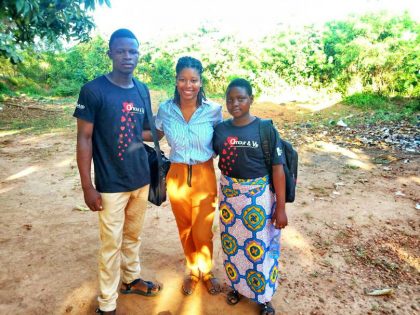 Problem Addressed
Among the many important problems of the Dévé community, there are three areas that need to be addressed directly to improve overall community well-being. These three areas include community waste and environmental hygiene, a decline in soil fertility and agricultural production, and water accessibility.
The consequence of this situation is that the district of Dévé is in need of community waste and sanitation management systems and improved (bio-intensive) crop cultivation gardening management practices and technologies to tackle community health, hygiene, and sanitation issues and to improve the productivity and diversity of food production.
Currently, there is no system to manage the amount of waste and trash produced by village residents. Trash lines the streets and overflows ditches, where not only do animals traverse and openly urinate and defecate, but children do as well. This ultimately leads to the direct and indirect spread of communal illnesses such as malaria, stomach infections, diarrhea, viruses, and many respiratory infections. This is problematic given the current difficulty to access potable water as well as a lack of available handwashing stations.
In terms of agricultural production, the absence of waste management prevents the community of Déve from being able to use waste to produce quality compost to improve the productivity and diversity of food production and address the decline in soil fertility.
In addition to the abundance of waste throughout the district, there are three central villages (Agnanvo, Devehomey, Kpodji) that lack water accessibility, despite Dévé's proximity to the Mono River. In the Couffo region where Dévé is located, only 40.6% of households have a place for handwashing and 63.3% of these households do not use water or soap to wash their hands (INSAE, EDSB 2017-2018).
To access water, community members must walk long distances, where they then have to use their feet to pump water, which can be difficult and sometimes dangerous for pregnant women and elders. These three villages house prominent high trafficked areas, including the district's local high school, market, and health center, thus making village residents more vulnerable to health issues derived from hygiene and sanitation issues.
This lack of water in addition to poor sanitation conditions is highly problematic and has serious health consequences for the Dévé district. Market vendors, health center staff along with the high school's students, teachers, and staff have minimal means of washing their hands before or after performing tasks such as eating, defecating, or attending to health concerns of sick patients. As a result, a high proportion of residents fall ill and are, in some cases, sent to the already low-staffed health center where water is already limited.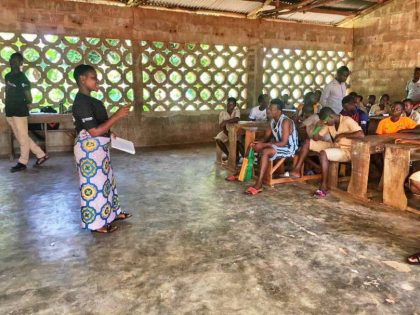 Project Description
This project is to implement a comprehensive program for trash collection, waste management, sanitation, and water supply.
In order to confront community hygiene and environmental sanitation, large trash cans will be fabricated and installed at 8 highly trafficked locations throughout the district of Dévé. Each location will receive 2 trash cans that can hold up to 100 gallons of waste.
An organized waste management committee will collect these trashcans via tricycle on a weekly cycle, and transport the waste to an isolated area where it will be sorted into two categories, biodegradable and non-biodegradable. The non-biodegradable trash will be burned whereas the biodegradable trash will be transformed into compost that will be used for bio-intensive vegetable production in select gardens in Dévé, thereby addressing the problem of soil fertility decline.
As a result, this system will ensure the project's sustainability, as well as provide continued agriculture, nutrition, and additional income support to the community.
In addition to the waste management system, each location that receives a trashcan will also receive a handwashing station so that community members will have access to clean water for washing their hands at all times, thus addressing the third issue previously raised. The waste committee, as well as the locations that are housing them, will manage these stations, ensuring that clean water and soap are available at all times.
Furthermore, this project will bring water to the three central villages that lack access, thus permitting the entire population of Dévé to have access to clean water at all times. For these three villages that lack access to water, the necessary structures will be constructed that are needed for each location as followed:
1. Gbakehoue (local market location) – A borehole will be drilled to a depth of 75 to 100 meters. The system will incorporate a tower and a manual hand pump. along with the construction of a manual water pump to bring potable water to the market area.
2. Zouhoudji (high school location) – A water pipe (32 in diameter and 6 meters long) will be constructed and connected to an existing tap within 50 meters of the school.
3. Kpodji (health center location) – A water pump and piping will be installed to provide access.
The community recognizes and understands that this project requires substantial work and commitment on their part. In fact, this project is initiated and spearheaded by Dévé community leaders, collectives of women, and high school students including the local Amour et Vie club. Currently, there are several women's groups who have taken initiative and volunteered to begin cleaning up the community in their free time.
The Deve community has committed to contributing financially and providing manual labor to fabricate the trashcans and handwashing stations. This contribution covers 25.1% of the total project cost.
Project funds will be used to purchase all the necessary project materials to facilitate the waste management system and provide water access. This includes the purchase of concrete, pipes, pipe joints, faucets, plastic containers, iron rods, and a tricycle.
Funds will also cover the skilled labor costs of the plumber and mason who will be responsible for the laborers and facilitating the project. Community authorities will be responsible for maintaining the tricycle and any foreseeable repairs needed.
Project Impact
This project will benefit 12,807 Deve community members.
Project Administration
Jacy Jones, Peace Corps Volunteer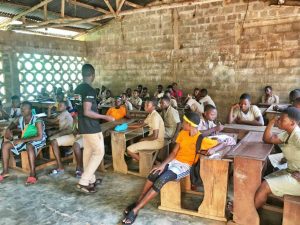 Monitoring and Maintenance
Once the construction of water pipes and hand-washing stations are completed, the availability of potable water will continue to benefit the Deve community by ensuring community members stay well hydrated and have clean water for handwashing.
The waste committee will be responsible for managing the waste collection and composting processes. The locations that are housing the trash cans and hand washing stations, will ensure that clean water and soap are available at all times at the stations. As a result, this system will ensure the project's sustainability, as well as provide continued agriculture, nutrition, and additional income support to the community.
To ensure the community continues to benefit from this project well into the future, steps will be taken to ensure the tap remains functional. The administration at the Deve high school will be vital in maintaining the newly constructed tap.
As for the water pumps constructed at the local market and health center, both the local Deve authorities and officials will be responsible for ensuring the pumps are used properly and are well maintained. The tricycle and any foreseeable repairs needed will also be the responsibility of local authorities. All in all, the maintenance and operation of established community infrastructure and services will be the responsibility of the community members and leaders.
Comments
In sum, this is an integrated project that will use the community's waste and sanitation problems as a solution for environmental and agricultural needs. Fabrication and installation of trash cans will address community hygiene and environmental needs by reducing the amount of air-borne illnesses deriving from waste and open defecation.
The tricycle will be essential in removing waste on a weekly basis, and clearing up community areas where community members work and live.
Transforming biodegradable waste into compost will also have a profound impact on the productivity and diversity of vegetable production.
By improving the quality of the living environment of the population, it ultimately provides more food and income to the families and ensures good health through better community hygiene.
Project Funding
Please donate for this project.