Concslusion of Hun Sen Boribo School Water Project – Cambodia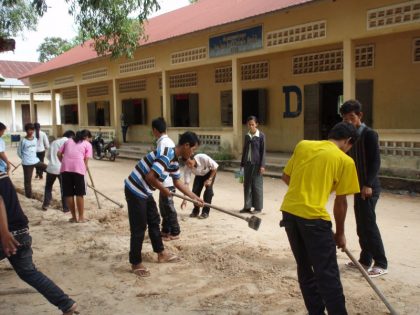 This project has been completed under the direction of Peace Corps Volunteer Keiko Valente. To read about the beginning of the project, CLICK HERE.
The project was to bring water from the school well to six bathrooms on the Hun Sen Boribo Lower and Upper Secondary School grounds.
Keiko reports:
There is now running water in all nine toilets, powered by an electric motor connected to the underground well.

The support from the school community was huge and students came out three Thursdays in a row to complete all the labor for the project themselves.

The students set up a cleaning schedule for the bathrooms and purchased cleaning supplies.

Since the completion of the project, I have seen many students- girls and boys alike- use the restrooms at school!
We again wish to thank Daniel Valente and the other friends and family of PCV Keiko Valente for providing the funds for this project plus additional amounts for future projects in Cambodia.