Conclusion of Zguriţa School Water Filter Project – Moldova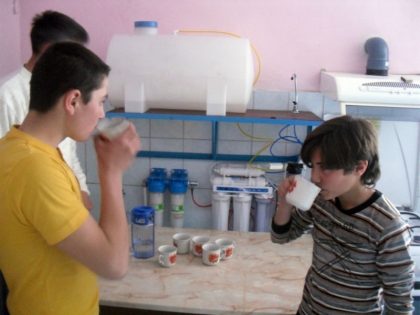 This project has been completed under the direction of Peace Corps Volunteer Vince Lambert. To read about the beginning of the project, CLICK HERE.
The project was to purchase and install an industrial water filter at the school.
Vince reports:
The project came about when we learned that nitrate levels in our water in Zgurita, including the main water supply to the village school, were up to 8 times higher than the amount considered safe for drinking. Test at the school showed over 250 mg/l of nitrates in the water. According to Colorado State University Extension's website, up to 45 mg/l is considered safe for drinking.

Nitrates come from organic and inorganic sources (fertilizers, poorly built latrines), they are odorless and tasteless in the water, and once they enter the human body they enter into cells and prevent the proper absorption of oxygen that our body needs for the development.

One of my work partners, Sergiu, and I collaborated with the mayor and school so that everyone was on board, and we researched what kind of filter was needed at the school. We proceeded to purchase a water filter and 2-years-worth of extra cartridges. The water filter works with a reverse osmosis system and is rated to clean 99% of all contaminants in the water, including most nitrates.

We installed the filter at the school in the main water line to the kitchen. All of the food will be washed and prepared using clean water, and pitchers of drinking water will be provided to the students on a daily basis.

The latest water tests show 35-40 mg/l of nitrates in the filtered water, within recommended limits. The water now tastes delicious!

Thanks to Appropriate Projects, we were able to have an immediate solution to improve the short and long-term health of the students and faculty at the school. We haven't solved the overall problem of cleaning the water system in our community, but at least we have helped shield the students from being affected by contaminated water while at school, and have brought awareness to an important health issue.
We wish to thank Vince for implementing this project and The Soneva SLOW LIFE Trust for providing the funding.