Conclusion of Volodymyrivka School #3 Bathroom Project – Ukraine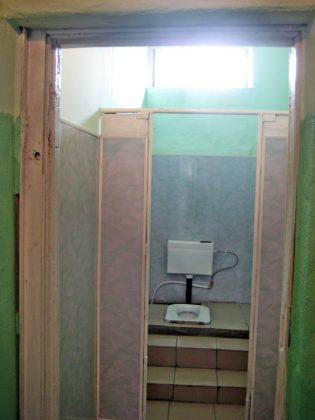 This project has been completed under the direction of Peace Corps Volunteer Caitlin O'Connor. To read about the beginning of the project, CLICK HERE.
The project was to build an indoor bathroom for males and females at the Volodymyrivka School #3.
Caitlin reports:
The Volodymyrivka School #3 bathroom project to install two new bathroom facilities has been completed. The project was to renovate a room currently used for storage. When funding was received the staff cleared the room of all old storage items and purchased materials.

The maintenance staff with the help of a professional plumber installed new pipes to connect to the current water and sewage lines. Next, a dividing wall was created in order to have two separate bathrooms. Then the walls were finished with drywall, paneling, and new paint. Light fixtures were also installed. The staff then installed two new toilets along with two sinks and faucets.

The final step was to put in new tile for the floor. The process took longer than expected because the tile was late in arriving. It was expected to take a week to arrive and took three weeks to be delivered.

The bathrooms are open for 300 students and about 30 staff members at the school, and they are all very excited about the improvement. Life at school is now much more sanitary. The community has had an overwhelming positive and happy response.

The staff members keep commenting on how nice the bathrooms are and how thankful they are to Appropriate Projects. Thank you for your support!
Some quotes:
From the Director of School- "We are so excited and thankful to have new bathrooms where we do not have to go outside during the cold months. I would like to thank the organization for the funding to help improve our school and prevent sickness."

From a student- "I am so happy we do not have to walk outside when it is cold out anymore!"

From a teacher at school- "It is very hard to find funding to make improvements to the school. We are so thankful to be able to make a school more beautiful and healthier for everyone."
We wish to thank Caitlin for completing the project and Six The Soneva SLOW LIFE Trust for providing the funding.