Conclusion of Tufutafoe Composting Toilet Project – Western Samoa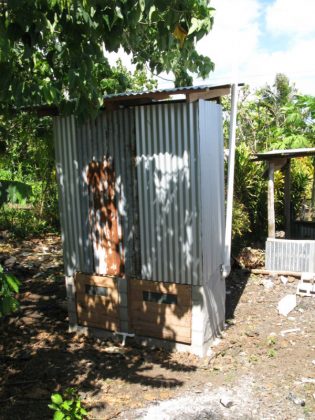 This project has been successfully completed under the direction of Peace Corps Volunteer Jennifer Koch. To see the history of the project CLICK HERE.
This was a demonstration project to provide a dry composting toilet at the community center of the village. It included an educational component to teach the families of Tufutafoe and surrounding villages to construct their own toilets.
Jennifer reports:
The composting toilet pilot project was completed in mid-May 2010. After many unforeseen lulls in construction, for reasons such as lost deliveries and property line disputes, I was glad to see the toilet in full working order while I still had a few months left in the village to explain the new technology.

The work started in January and had 5 distinct phases: land leveling, foundation and lower vaults, plumbing, carpentry and steps, and upper house. We worked the second week of each month.

The labor was free and highly skilled. 2 masons, 3 carpenters, and 10 or so village boys helped this project coalesce into a safe and lovely structure. As the labor was free I didn't want to push the village into working any more than once a month, thus slow (but steady) progress.

The intention of the project was to introduce a new technology to the village and teach people how it could benefit their lives. The 3 benefits I focused on were #1 a water-free odorless sanitary toilet #2 free safe fertilizer #3 environmentally sustainability and low environmental impact.

The village's ears perked at #1. The water situation can be dire in the last half of the dry season. Most family's water tanks have been used up. During this time of the year most people do not/are no able to use their water seal toilet and resort to temporary pit latrines or no formal waste disposal system.

When I explained the toilet is waterless, people commented that it would be the right system to have as backup for the dry season. I hope that people would use it year round eventually.

I spent a lot of time explaining through presentations, examples, casual conversation and anecdotes that compost from the toilet could be used in the garden. Compost from chickens is already a common fertilizer in the village. But, I still thought it might be difficult to convince them human compost could also be used.

It was indeed difficult. The idea was met with much skepticism. I tried my best to explain human compost's safe nature. I explained water treatment plants, and how that it is essentially recycled human waste. I tried many approaches, but this will be a change that will take time to accept.
Jennifer reflects on the outcome of the project:
Overall, I feel the project was a success. The toilet was completed and is being used.

Multiple people are knowledgeable on the required yearly maintenance of the system. Most of the village's 300 people are now aware of what a composting toilet is, its benefits, and how to use it.

In conclusion, the project was built as a pilot project. It tested the public reaction to a composting toilet system in rural Samoa. There were setbacks and criticisms as well as curiosity, amazement, and lots of much appreciated volunteer help.
Jennifer reflects on future use of the design:
Through this project, I was able to alter an existing composting toilet design that works well, especially in tropical countries. I would like to promote this design in locations worldwide that are interested in exploring composting toilet technology.
Recently, Jennifer's design was adopted for use at a religious agricultural college near Samoa's capital city to further show the effectiveness of the technology. We are grateful to Jennifer for conducting this demonstration project. With no down side, it seems only a matter of time before this appropriate technology comes into prevalent usage.
We wish to thank The Soneva SLOW LIFE Trust for providing the funds for this project.