Conclusion of Sinchu Jaabo and Kaani Kunda Pump Project – The Gambia
This project has been completed under the direction of Returned Peace Corps Volunteer Jeremy Mak. To read about the beginning of the project, CLICK HERE.
The project was to rehabilitate 7 Mark II Handpumps in 3 districts.
Je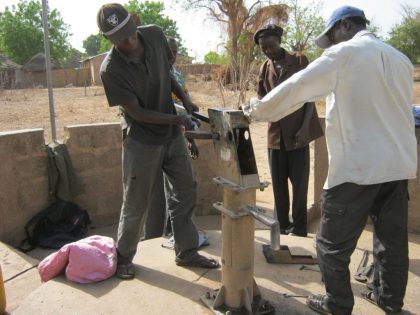 remy reports:
I'm writing to let you know that I have concluded the Sinchu Njabo and Kaani Kunda Pump Project in the Central River Region, The Gambia, West Africa, on May 14, 2012.

A more fitting title is Upper Badibu/Niamina Dankunku/Niamina West Pump Project. While we originally planned to rehabilitate 10 Mark II pumps in 7 villages, we were able to repair 14 pumps in 7 villages and improved access to water for a conservative estimate of 5,100 beneficiaries. The project sites, with number of fix pumps and revised beneficiary numbers are:

Choya, 400 people, 1 pump fixed
Naani Kunda, 500 people, 2 pumps fixed
Touba Murit, 300 people, 1 pump fixed
Dankunku, 2,000 people, 1 pump fixed
Sinchu Njabo, 400 people, 1 pump fixed
Kaani Kunda Suba, 500 people, 4 pumps fixed
Kaani Kunda Tendala, 1,000 people, 4 pumps fixed

This project aimed to rehabilitate old and broken pumps to ensure water access for communities without access to piped water. Our trusted and trained well mechanic Demba Jaow from Choya, Niamina West, Central River Region-South, oversaw the Mark II pump repairs with technical assistance from Jaye Jallow from Brikama Lefaya and Jeremy Mak, RPCV, and local labor.

On March 31, 2012, we were able to follow up from our last Water Charity project and install the repaired pump handle and housing that we welded for Choya, a Fula community in Niamina West. Choya also received new handle bearings, a cylinder seal, pipe seals, and a new handle axle.

On Saturday, May 12, 2012, we fixed 4 pumps in Naani Kunda, Touba Murit, and Dankunku Villages, all in Niamina Dankunku District, Central River Region South.

For Naani Kunda, an ethnic Fula community north of Dankunku proper, we changed axle bearings for 2 of their 3 handpumps. One is located outside of the village, used primarily for laundry. The other was right outside the mosque.

For Touba Murit, a Wolof village bordering Naani Kunda, more comprehensive repairs were necessary. We pulled out all the pipes and the pump cylinder to change the cylinder seals, gaskets, and springs—before repairs, cylinder seal leaks made it very difficult for villagers to draw out water. New handle bearings and a handle axle were added, as well as new Teflon seals around each pipe connection.

New handle bearings were also placed on a handpump in Dankunku Village. It is used by 15 compounds (more than 150 people) when the larger community's solar borehole is shut down for maintenance or when the water tank has been depleted. All of these pumps also got their bearings and chains greased to increase service longevity.

Originally, Sare Demba, a small Fula community, was identified as a village in need of well repair for the day, but they were unable to arrange transportation for the repair team. Since they already have a solar borehole, we ultimately decided to divert repair materials on the following day to Kaani Kunda Suba and Kaani Kunda Tendala, both which exclusively rely on handpumps and open wells for their water.

On Sunday, May 13, 2012, we crossed The Gambia River by boat to Upper Badibu District on the North Bank. Then we changed handle bearings at Sinchu Njabo, a Wolof village of 200 people, as well as reshaping and tightening the bearing sockets on the handle. A metal spacer was also added in the axle well because the well housing had been bent out of shape by overuse.

Next, we went to Kaani Kunda Suba, a Mandinka village of more than 500. We fixed 2 wells that we had seen on a previous visit to Kaani Kunda, changing bearings for one, and putting in new bearings, Teflon seals, and cylinder seals, as well as a replacement chain for another. While finishing up these 2 pumps, we learned that the village did indeed have 4 additional ones. We had only enough contingency supplies to change the bearings on 2 more on the outskirts of the village, for a total of 4 pumps repaired. We had planned to change cylinder seals for another pump there, but as Demba ensured that it was still functioning properly, we left an intact German cylinder repair kit with the villagers for future repairs.

In the afternoon, we moved to Kaani Kunda Tendala, a mixed Mandinka and Fula village of more than 1,000 residents. We changed cylinder and pipe seals, handle axles, and bearings for the village's first 2 handpumps. Upon pulling out the pipes and seeing how dirty and smelly the water was (insects in the pipes and on the water, a sulfurous "rotten egg" odor), we learned that the water was "not sweet" and that the village used the water there primarily for cooking and washing. They have 2 additional pumps that we did not know about, on which they depended for drinking water. The following day, we put in replacement bearings for those 2 pumps as well.

At each site, we stressed the importance of proper maintenance to communities—to not abuse the pumps when using them, and to repair the pumps with original parts in a timely manner. For example, if something as relatively inexpensive and domestically available as a pair of $3 bearings was left to break, it would slowly cause the whole pump to operate out of alignment, ultimately destroying the housing and axle. We supplied each community with contact details on how to get replacement parts.

No payment for parts or services were asked from these villages, only help with transportation. A modest per diem was paid to Demba from the Kaani Kunda Suba and the Kaani Kunda Tendala communities for the additional 4 wells that we fixed.

Three handle axles remain for future well repairs.

We are overwhelmed by the success of this project, and again express our gratitude to Jeremy for his diligence and selflessness.
We again extend our gratitude to The Soneva SLOW LIFE Trust for providing the funding.