Conclusion of School Water Storage and Filtration Project – Thailand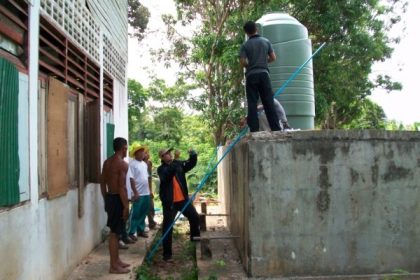 This project has been completed under the technical direction of Peace Corps Volunteer Kent Elliott. To read about the beginning of this project, CLICK HERE.
Kent reports:
This project was completed as planned and budgeted. A 2,000-Liter Fiber Water Tank was purchased and installed on an elevated platform behind the main school building.

The upper valve of the tank was connected to the main public waterworks system so that it can draw water during times of low public consumption and high availability. The lower valve was connected to the new Carbon Water Filter installed in the front of the school for convenient use by faculty, students, and visitors.
Kent further reported on the community involvement:
This project was conceived and implemented by the community. It was first proposed by the village headman and school director, with the village committee and school faculty supporting the decision.

Community members that work at the SAO Department of Public Works researched suitable water tanks and filters before purchase. As these villagers had completed similar projects in the past, they were chosen to install the system at school.
We are grateful to The Soneva SLOW LIFE Trust for providing the funding for this successful project.