Conclusion of Rincón Grande Handwashing Station Project – Guatemala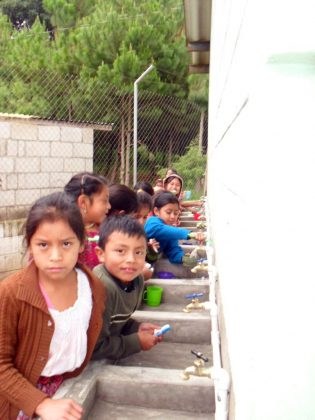 This project has been completed under the direction of Peace Corps Volunteer Carolyn Vopelak. To read about the beginning of the project, CLICK HERE.
The project was to build a handwashing station with 10 faucets for the children at the school.
Carolyn reports:
The construction started at EORM Rincón Grande on June 6, 2011 and was completed on June 29.

The master mason was sent by mayor at no charge to the school, so funds were used only to buy materials. Parents arrived every day to work as assistants to the mason.

The project connected very well to the water as well as the drainage system.

If there should be problems or repairs in the future the parents are familiar with the design. The pipes are accessible, and the station should be quite easy to maintain.

There were sufficient funds to install 12 faucets, so the kids will have more space for hygiene. The sink ended up being a little bit too high for the kids, so the mason put in a step so they will be able to reach better.

The school is gated and locked well and there have been no problems with theft throughout the process, nor does the community anticipate any such problems.

Now that the project is complete the teachers will continue to work with the kids in forming healthy habits, washing hands and brushing teeth, and the school will be closer to accreditation as a healthy school.

This collaboration has been a positive experience for the community and the parents can use this experience to plan and manage future projects.
We are grateful to Carolyn for completing the project, and again wish to thank The Soneva SLOW LIFE Trust for providing the funding.