Conclusion of Retirito Water Tank Project – El Salvador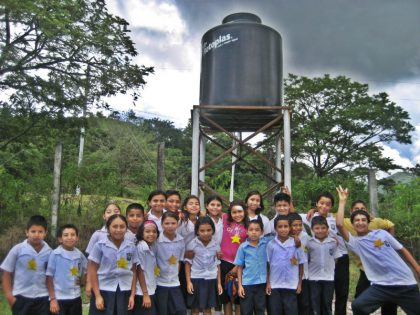 This project has been completed under the direction of Peace Corps Volunteer Natalie Lovgren. To read about the beginning of the project, CLICK HERE.
The project was to construct a water tank to be used for the water needs of the school.
Natalie reports:
Gratitude and excitement can be felt throughout the small community of Retirito in La Union, El Salvador. After a few setbacks due to heavy rain storms and a poorly-fitting part, the project has been completed.

With the help of students' families, the water tower was constructed and is now in place on the hill behind the school, and the new tank is connected with tubing and hoses to the school's water basin.

Now the students and staff at the Centro Escolar of Retirito can turn on a faucet that fills up their water basin using stored water from the new tank. No longer will the students or staff be without water to wash their hands, cook the daily snacks, clean the floors, or water the plants of the new school garden project.

I am also very pleased to announce that through the efforts of the school director and parent committee, an engineer will be installing five new flushable toilets, utilizing the new water tank to fill each toilet. The school currently has only two latrines which do not flush to serve all students and staff. That project is set to be completed in November, and will be another blessing to this little school.

On behalf of the school director, the parent committee, the families of Retirito, and myself, thank you so very much for your support and encouragement. This project will serve not only the current students, but many more generations to come.

This is another testament that Appropriate Projects can help facilitate development at every level, small or big, in even some of the most remote communities, with the generous support of kind individuals. Thank you.
We, in turn, wish to express our gratitude to Natalie, for completing this great project, and to her friends and family for providing the funding.