Conclusion of Protected Springs Project – Malawi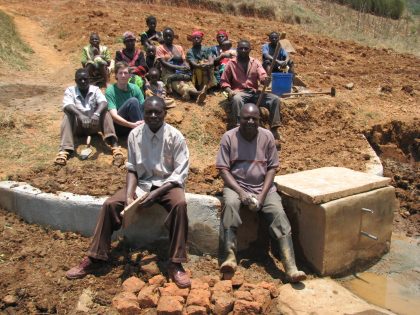 To read about the start of the project, CLICK HERE.
What do you say when a project is completed with results far beyond all expectations? "Right on!"
The project was started with the objective of building three protected springs in the Misuku Mountains. Funds were designated to go toward purchasing cement, and paying Health Surveillance assistants and community health and water committee members to build the springs.
In his final report, Peace Corps Volunteer Andrew Abram states:
Thank you very much for the contribution to the Misuku Protected springs project in Misuku Chitipa, Malawi, Africa. The project has since been completed and I feel personally that the money has been spent in the best way possible.

Instead of building 3 new springs, as the proposal suggested, we were able to repair 7 springs that were built some time back and were not functioning, and also build one brand new one. In this way the money was able to go much further than we had originally intended supplying protected water to many more people.

The springs we repaired were in a very poor state. Most were not even able to provide a trickle of water because the cement had eroded and water was flowing around the spring completely. I imagine it was poor construction to begin with. We have gone in and extended the wings forcing all the water to be collected in the box and also we reinforced the walls with cement so they will last.

This comes just in time since the rainy season has just started and is often a trying time for people concerning disease in this area. The protected springs offer a safe source of water during a time when water can become contaminated from livestock and runoff from surrounding farmlands during the rains.

Thank you again for the assistance in making this important project possible.
As a result of the success of this project, Andrew is preparing plans to do more of the same. This fits in precisely with our objective of following up good projects with subsequent ones, and we are awaiting his proposal.
This project was funded by Andrew's mother Sharon Abram. While we are extremely grateful for this, we would like Appropriate Projects and Water Charity to be able to do needed water projects without relying solely on the generosity of friends and families of Peace Corps Volunteers. Please find a project that sparks your interest, and make a donation!