Conclusion of Papalón Pump Repair Project – El Salvador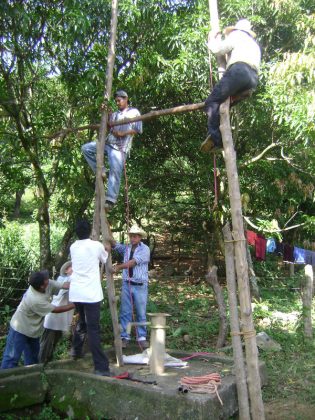 This project has been completed under the direction of Peace Corps Volunteer Keri Inouye. To read about the beginning of the project, CLICK HERE.
The project was to repair the public water pump in the neighborhood of Papalón by replacing the damaged tubing and repairing the cement platform.
Keri reports:
The project turned out really well. We completed it this past week in a day and a half with help from a pump technician, his two sons, and 10 men of the community who will directly benefit from the pump.

On the first day, we removed the existing tubes, all of which showed extensive rust and holes. The second day, we bought all brand-new tubes, cut them to fit, and installed them.

When the work was complete, water came out of the pump for the first time in years. The residents of the community are very pleased with how the project turned out and have promised to maintain the pump well. The pump will be of great service to them, especially as the dry season approaches and water becomes scarce.

After buying the materials and paying the technicians for their labor, we were left with $50, which will be used to buy bags of cement to reinforce the pump's platform.

Future plans include the construction of a stand with 6 pillars and a roof, to be built around and above the pump to protect it from future damage.

The residents expressed their gratitude both to Peace Corps and to you all for making this project happen.
Thank you so much for your generosity. This is something that the people in my community will be talking about for a long time.