Conclusion of Mmatope Primary School Water Project – South Africa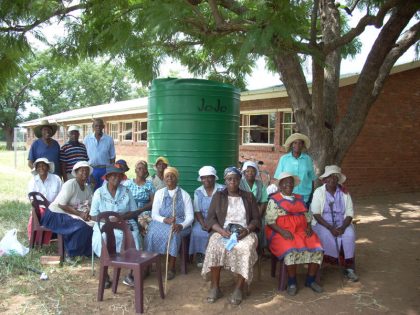 This project has been completed under the direction of Peace Corps Volunteer Rebecca Cramer. To read about the beginning of the project, CLICK HERE.
The project was to provide a rainwater collection and storage system for the Mmatope Primary School.
Rebecca reports:
I am writing to inform you that we have completed this project (finally). Though we purchased the tank and all necessary material in November, the school was very slow to coordinate the construction of the stand for the tank and hook the tank into the existing gutter system.

As you can see in the pictures, the construction has been completed, and just in time, as we just have gotten rain after two months of drought.

The top picture reflects the elderly community volunteers taking a break from working in the garden. The two bottom pictures show elderly community volunteers discussing hooking the water tank into the gutter system and the completed project (with kindergarten children playing in the background) respectively.

Rebecca forwarded to us a few comments about the project from those involved:

"We are very grateful to Water Charity for helping us to collect rain water for our garden. Now that we have a reliable place to store the water, our garden has become a reality, and the children will be eating from it soon." – Mirinki Sekwala, Principal of Mmatope Primary School

"Thank you for your donation. We are very happy and excited to work in the garden at Mmatope Primary School and to grow food for the children and ourselves." – Mr. Kwape, elderly community member helping in the community

"This has been a great project to address the challenges we face in regards to water in our community. I am happy to be involved in it." – Mr. Motswai, Chairperson of the Mmatope Primary School Governing Body
We are grateful to Rebecca for completing this project. In addition, we again wish to thank The Soneva SLOW LIFE Trust for providing the funding for the project.