Conclusion of Misuku Protected Springs Project – Malawi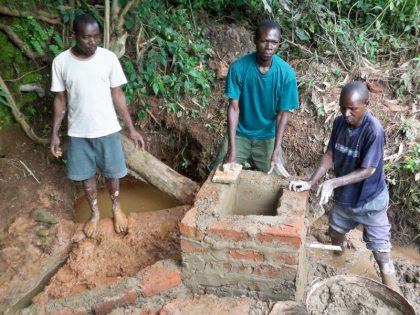 The second round of protected springs projects has been completed under the direction of Peace Corps Volunteer Andrew Abram. To read about the start of this project, CLICK HERE.
The project was for the construction of 3 new protected springs in remote areas, and the repair of others found in disrepair.
Andrew reports:
With your contribution the community of Misuku, Chitipa has been able to build three new protected springs and made repairs to two others in the area. This has brought safe water to many of the most remote areas of Misuku and the people of these areas are sincerely grateful for your donation. This type of project shows just how useful direct aid can be at the village level where $500 can really go a long way.
This project was a follow-up to the Protected Springs Project – Malawi, in which Andrew and the community repaired 7 spring catchment boxes, and built one new one.
We are extremely pleased to be able to participate in such a profound demonstration of the application of appropriate technology in areas of need. We extend our sincere thanks to The Soneva SLOW LIFE Trust for providing the funds for this excellent project.