Conclusion of Misikhu Friends Secondary School Water Project – Kenya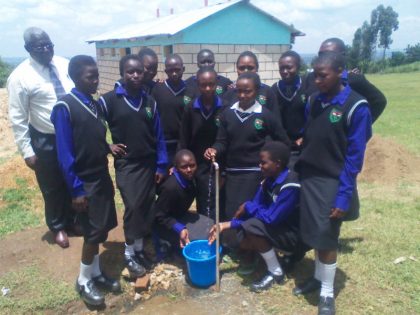 This project has been completed under the direction of Peace Corps Volunteer Brian Shultzabarger. To read about the beginning of the project, CLICK HERE.
The project was to construct a rainwater catchment and storage system at the girl's classroom at the school.
Brian reports:
The Misikhu Friends Secondary School water project has been successfully completed. Construction went smoothly and took only 9 days to complete.

According to the plan, guttering and piping were fixed along the building to channel rainwater directly into the newly constructed water tank. A brick wall was constructed around the tank to provide security and insulation of the water, and a water tap was fitted.

Timing for this project could not have been better since construction was able to take place while all of the girls were away on term break. The school principal told me it was a huge surprise to everyone when they returned to school and found a brand new water system already working and full of water. He said that as soon as they arrived the girls immediately went to try out their new water tap and even passed around cups to taste the water.

All of the girls are incredibly thankful for this surprise project and are happy to know they now have easy access to clean water. In fact, the girls took time to write individual letters to thank everyone who donated to this project.

The school committee is also thankful for the new water system and what it means for their expanding enrollment.

The principal said that not only would this system be able to serve the growing number of girls coming to the school this year but that it would also provide continuously clean water to the many generations of students to come.

I want to say thank you for again giving me the opportunity to work with your organization on this project. It has left a really positive impact on everyone involved and will be such huge benefit to the girls of Misikhu Friends Secondary School. I look forward to working with you again in the near future.
We wish to thank Brian for completing this project, and again extend our gratitude to The Soneva SLOW LIFE Trust for providing the funding.