Conclusion of Lutugino Educational Complex School #1 Water Filter Project – Ukraine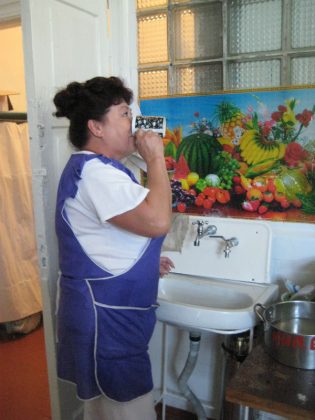 This project has been completed under the direction of Peace Corps Volunteer Nazgol Zand. To read about the beginning of the project, CLICK HERE.
The project was to purchase and install a water filter and hot water heater for the cafeteria of school.
Nazgol reports:
The project was to purchase and install a water filter and a boiler for the school cafeteria at Lutugino School #1.

The school has purchased and installed both the filter and the boiler. In addition, the staff has worked on renovating the cafeteria. The new and better-equipped cafeteria is now prepared to serve more than 600 students and staff at the school.

Our school director Natalia Alexeyvna appreciates Water Charity very much, recognizing that without the help of the Appropriate Projects, the kitchen would not have been likely to have access to such equipment. She was so happy about the new addition to the school that she made an announcement to all students at the first bell ceremony about their access to clean filtered water for this year.

The kitchen staff is especially grateful and would like to thank Appropriate Projects for making the job of preparing 600 meals a day a bit easier for them.

This project has not only provided the school with the basic necessary equipment to improve the cafeteria now, but it has also empowered the school's staff to think of better and more innovative ways to provide students with better access to clean water, to think of ways to save water, and to use resources better in the future. Thank You!
We again wish to thank The Soneva SLOW LIFE Trust for providing the funding for this project.