Conclusion of Kabuga Primary School Rainwater Catchment Project – Rwanda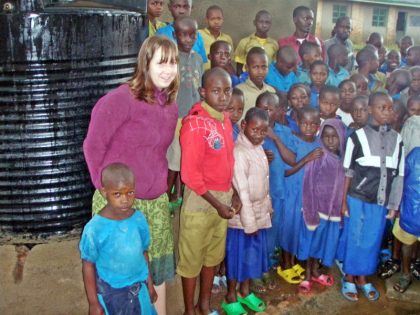 This project has been completed under the direction of Peace Corps Volunteer Sonya Alexander. To read about the beginning of the project, CLICK HERE.
The project was to build a rainwater catchment and storage system at the school.
Sonya reports:
The Kabuga Primary School water containment project in Buhanda, Rwanda has been completed.

The water tank was built just behind the first tank and the guttering was set up on the opposite building. The project progressed quickly and on schedule.

The cement platform was built first with the metal faucet placed in the cement, and the tank placed on top connecting with the faucet. It was a rather simple process and the headmaster did not hesitate to get started.

Two weeks later the guttering materials arrived and were installed. A tree branch was used to support the piping. It is cemented sturdily into the ground and the fork on top supports the pipe perfectly.

The teachers and students were all very excited about their new water tank. A girl in P6 said in kinyarwanda that she is really glad about not having to fetch the water anymore.

The headmaster and teachers threw a little party with fanta's (soda's) to celebrate the completion.

Rainy season began in March and the tank is already filled up with water and will be until late May or June.

The community is also grateful to be able to get clean purified water from the school and can send their children to school with empty water bottles and jerry cans to be filled with water for the school day and carried home.
We are grateful to Sonya for completing the project, and again wish to thank The Soneva SLOW LIFE Trust for providing the funding for this project.