Conclusion of Isla Escudo de Veraguas Composting Latrine Project – Panama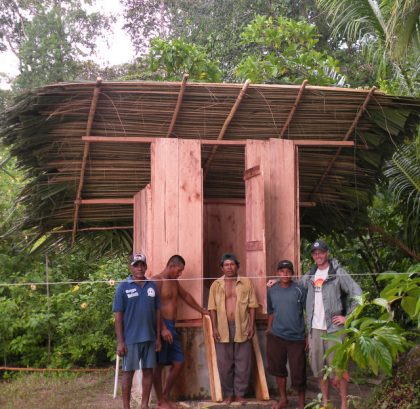 This project has been successfully completed under the direction of Peace Corps Volunteer Michael Smith. To see the history of the project CLICK HERE.
The project was to build a composting latrine, the first sanitary facility on this remote island with only 10 full-time plus 30 part-time residents.
Michael reports:
The weather, ocean, and the necessary people finally cooperated to finish the composting latrine on Isla Escudo de Veraguas! This final push was very exciting to all.

I was especially thrilled to see just how much the local indigenous people joined in on the effort by taking over the construction of the little house, cutting palm leaves for the roof, finding a local vine to use in the binding of the palm leaves, and so much more. They were great, and we were even visited by a local sloth during construction!
Michael expressed his gratitude:
Once again thank you so much for linking the small population of fishermen & their families on Isla Escudo de Veraguas with The
Soneva SLOW LIFE Trust. This has allowed them to now enjoy the first latrine on the island!
We, in turn, wish to give our thanks to Michael for taking on and persevering to complete this difficult project. Although this is a small beneficiary population, for those who reside on the island it will make a huge difference in their health and wellbeing.