Conclusion of Hadsompaen Catch Dam Project – Thailand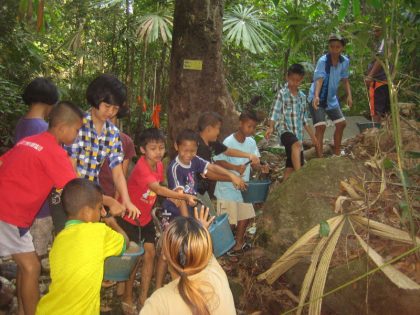 This project has been completed under the direction of Peace Corps Volunteer Paul Gauci. To read about the beginning of the project, CLICK HERE.
The project was to build a permanent catch dam to replace the main sandbag dam, thus creating a reliable clean water supply.
Paul reports:
It took a short while to get things started as I got Dengue Fever just before our scheduled start date, but once we got started it went real quick from there.

I took a trip into town with my counterpart, Mr. Pattana Taepanich and bought the supplies. The next day, with the help of our volunteers, we moved the concrete, sand and pipes to the catch dam site and started building.

The dam engineers worked on the preparation of the dam placement, while the volunteers and I started gathering the rocks used to build the dam. We were able to finish half of the dam on the 2nd day.

Everyone was very excited to see the finished product and constantly commented on how comfortable they will be and how beautiful it will look. Mr. Pattana told me at the end of the day that, "For just $500, thousands of villagers will be able to use and drink the water for over a hundred years." Something I'll never forget.

For day 3, we invited the children in the village to come and help gather small rocks used to build the interior part of the dam. Some of the villagers provided lunch and snacks and the children were able to contribute to the project, as well as have fun playing together and taking pictures. With the help of the children, volunteers, engineers, Mr. Pattana and myself, we were able to build the catch dam in just 2 days.

On days 4 and 5, the engineers, Mr. Pattana and myself connected the piping into the main system and closed the drainage pipe at the dam in order to fill it up. It was only a matter of hours before the dam was full and the project 100% successfully complete.

The 845 water users, as well as several hundred more new water users, will now have reliable access to usable water for years to come.

Once again, thank you for the opportunity to do this project with my village. It couldn't have gone any smoother, minus the Dengue 😉
We in turn extend our thanks to Paul, and to his friends and family who contributed to the funding for this project.