Conclusion of Guia Primary School Latrine Project – Senegal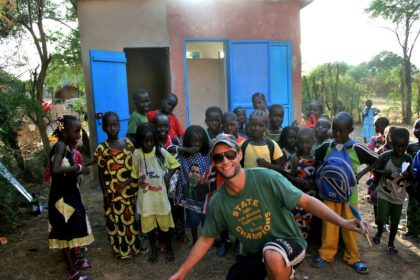 This project has been completed under the direction of Peace Corps Volunteer Paul Levy. To read about the beginning of the project, CLICK HERE.
The project was to reconstruct three latrines at the Guia Primary School.
Paul reports:
I am writing to inform you of the completion of the Guia Primary School latrine reparation and expansion project, which took place in the Saint Louis Department of Northern Senegal.

Upon receipt of the funds, I went with a local mason and the school director to buy materials for the project. After the necessary materials had been bought and the sand and gravel had arrived by truck, the mason began making bricks for the hand-washing/shower station while I went to a nearby town to oversee the door repairs with the school director.

Meanwhile the mason began building the addition and draining the sewage tank. After the sewage tank had been drained, the mason expanded the tank, rebuilt the top to ensure that nothing could permeate it, and installed new piping.

Finally, once the addition was complete, we installed the newly-repaired doors and the door to the addition. As a gesture to the community, PCV Madeline Tiee and I painted the doors and the shutters of the building.

Paul reports on the outcome:

As a result of the project, all 400 students and 14 teachers now have access to four fully functioning latrines, as well as a new hand-washing/shower station. Sanitation at the school has therefore been improved from two angles: Students are no longer using the school grounds and river to go to the bathroom, and they now have a close and efficient place to wash their hands after using the restroom.

To ensure that the facilities are being used and as a general follow up, PCV Madeline Tiee and I have scheduled to return to Guia next week, where we will hold an educational session regarding the importance of using the new latrines as a means of preventing the spread of Schistosomiasis.

Paul reports that, when asked about how they felt about the new latrines, community members said the following:

The new latrines are good, thank you both for your help. Sanitation is important. -Mme. Aminata Seck, Schoolteacher

I was happy to work with you on this project. -Mr. Abdou Wade, Mason

I thought the project went well and I would like to continue working together in the future. Mr. Mamadou Sy, School Director
We extend our thanks to Paul (and Madeline) for carrying out this project so quickly and effectively.
We again wish to thank Pierre Levy and the friends and family of Peace Corps Volunteer Paul Levy for providing the funds for this project.